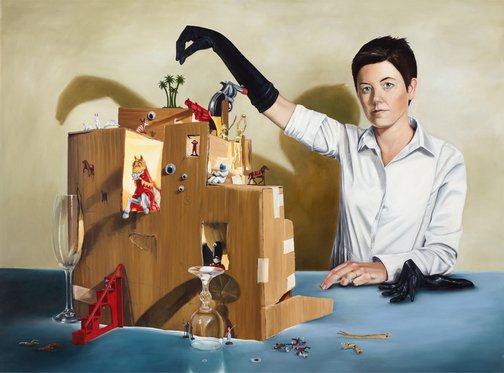 Monika Behrens
The artist's practice
Medium

oil on canvas

Read label text

Monika Behrens's painting is a self-portrait. 'I chose myself because I am readily available. Also it is important to me to talk about the artist's practice to a wider audience,' she says. 'I often reference Dutch Golden Age painting, usually within the still-life genre. I wanted to paint a portrait for the Archibald that would give the viewer information about the sitter much like the portraits of the Golden Age.'

Working within the still-life genre, Behrens used a cardboard box for the construction, bent and shaped into a workable form. She placed a light inside the box and one on herself to cast an interesting shadow.

'My practice is often political; everything has some sort of underlying meaning that builds with all the different symbols,' she says. This painting is full of symbolic references. The light inside the box, for example, symbolises the energy of an artist's practice, the stairs represent the launch into a career, and the palm tree is some sort of imagined goal, or paradise. The racing car driver symbolises periods of time that pass too quickly, the netballers suggest competitiveness among peers, while the arrows, text and rips on the box are like plans of attack. The glasses refer to Behrens' recent series Standing still and the soldiers relate to her war paintings.

'I wanted to paint myself with an intense expression staring at the viewer that says I am passionate about what I do,' she says. 'My right hand is positioned as if I am a puppeteer controlling the construction. My left hand is not wearing a glove to present my wedding ring. I recently got married to my partner in New York because same-sex marriage is not yet legalised in Australia.'

Born in 1975, Behrens is a Sydney-based artist. In 2007 she completed a Master of Fine Art at the College of Fine Arts, University of NSW. Since then she has shown work in numerous exhibitions and has undertaken several residencies in Paris, Kuala Lumpur, Champagne, Berlin and Sydney. Her work is included in collections such as the National Gallery of Australia, Artbank and the UBS art collection.