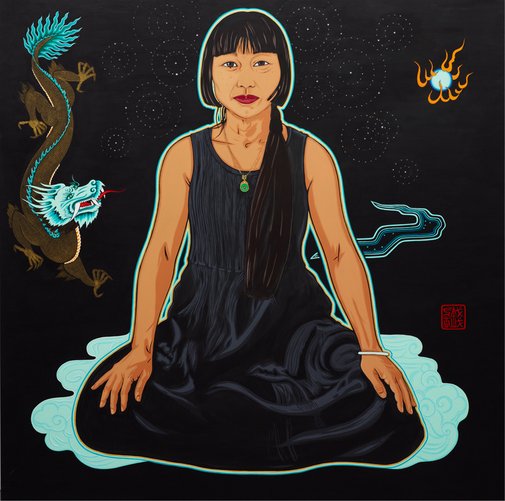 Kate Beynon
Lindy Lee (Year of the Dragon)
Medium

acrylic on linen

Read label text

Lindy Lee is a leading contemporary artist with a career spanning over three decades in Australia and internationally. Born in Brisbane, her work frequently explores the nature of self in relation to her Chinese-Australian heritage. She is a trustee at the Art Gallery of New South Wales.

'I have known Lindy for many years and find her artwork intriguing and inspiring,' says Kate Beynon. 'She has always been a wonderfully supportive art world colleague, friend and mentor. Lindy embodies a fabulous mix of Buddhist sage-like calm, combined with exuberant energy and sense of humour. I wanted to depict Lindy as strong and direct with a slight glint in her eye.

'We both love dogs and dragons and have referenced dragons in our work in various ways. Being the Year of the Dragon, I included a small dragon to accompany Lindy.

'Last year when I sketched Lindy in her studio, one of her striking artworks was on the wall behind her. This work … appeared to have light emanating from the [perforated designs]. I liked how this work relates to the cosmic energy interconnecting all life, so echoed this in the dotted concentric circles on the black background.

'My work blends influences of traditional art forms, such as my maternal grandfather's Chinese paintings, with contemporary animation, film and fashion,' says Beynon. 'The flaming pearl symbol is associated with Chinese dragons "chasing" the mystic pearl, which can be seen to represent the search for wisdom. The flames also relate to Lindy's unique use of fire in her work. Lindy always looks stylish in black and the drapery of her long dress fell in swirly folds. The pose reflects Lindy's natural ease of sitting in the lotus position, and I imagined her floating on clouds with a gold and blue aura.'

Beynon was born in Kowloon, Hong Kong in 1970. She arrived in Australia from the UK with her family in 1974. She has held over 20 solo exhibitions and participated in 80 group exhibitions including Global feminisms at the Brooklyn Museum of Art, New York, 2007. This is Beynon's fourth time as an Archibald finalist. She was highly commended in 2010. She was a finalist in the Portia Geach Memorial Award in 2006 and 2011 and in the 2010 Doug Moran National Portrait Prize. Beynon's work is held in many national and international collections.