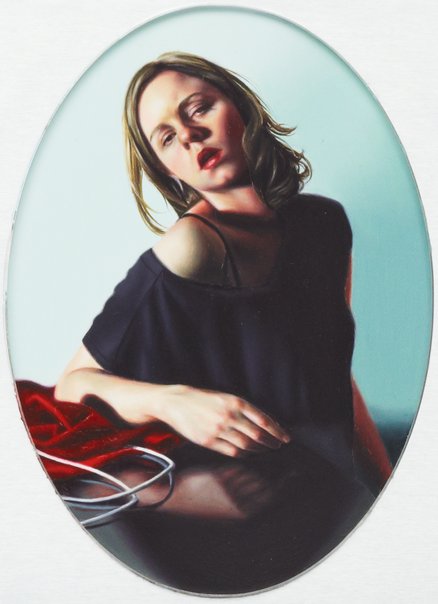 Natasha Bieniek
Fluoroscuro
Medium

oil and perspex on zinc

Read label text

Natasha Bieniek's painting is a self-portrait. The title Fluoroscuro is an imaginary word inspired by the Italian term chiaroscuro, meaning light against dark.

'Typical of the baroque era, chiaroscuro paintings exhibit an aesthetic of high contrast often formed by candlelight,' says Bieniek. 'Although traditional techniques are employed, my painting incorporates a contemporary element: fluorescent lighting. My intention is to draw distinctions between the past and present by combining modern and traditional materials.

'The size of my painting as well as its oval composition pays tribute to the tradition of the 16th-century miniature portrait. These paintings often resembled pendants and acted as a personal keepsake. My aim was to incorporate their jewel-like quality into my work. Due to my painting's small scale, the normal physical space between the viewer and the work is forcibly narrowed. Such intimacy seeks to form a singular relationship with the viewer. This is also relevant to the way many of us view images today. Technological devices such as smart phones miniaturise the way we look at pictures. Fluoroscuro aims to demonstrate a juncture between scale, proximity and representational painting.'

Born in Melbourne in 1984, Natasha Bieniek graduated from the Victorian College of the Arts in 2006, the same year she won the Nino Sanciolo Arts Prize – an ancient painting scholarship in Florence, Italy. Her short-listed prizes include the 2008 and 2009 Metro Art Award, the 2009 National Youth Self Portrait Prize and the 2010 Royal Bank of Scotland Art Award. In 2011 she was a finalist in both the Archibald Prize and the Doug Moran National Portrait Prize. This year she is a finalist in the Redlands Westpac Art Prize and has a touring solo exhibition at the Gippsland Art Gallery, Sale and Dianne Tanzer Gallery, Melbourne.