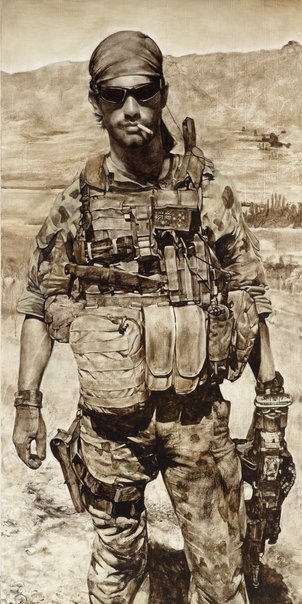 Jodi Daley
Foras admonitio, Private X
Medium

pigment, charcoal and glue

Read label text

Foras admonitio means 'without warning' in Latin. It is the motto of the 2nd Commando Regiment, an elite Special Forces unit that forms part of the Australian Army's Special Operations Command. Private X, who is a commando within this unit, was deployed to Afghanistan in 2007–08 and again in 2010. Due to the nature of his duties, his name and full features cannot be disclosed.

This portrait forms part of a wider body of work that Jodi Daley has been developing over the last three years, evolving from a close association with the unit. 'Through this portrait of Private X, I have used the concealment of individual identity to explore and define the unique spirit, characteristics, essence and elusive qualities of the soldier of the 2nd Commando Regiment,' she says. 'Essentially it is a "collective portrait" that aims to embody the qualities of confidence, courage, discipline, fortitude, purpose, resolve, belief, competence, responsibility and a strong sense of justice.

'I wanted to recreate an image from Afghanistan of Private X that exemplified those qualities. We had four informal and lengthy sittings/sessions in the garage where I work. To create an authentic sense of time and space I set up specific lighting representative of a certain time of day. The background is notional, a partly imagined Afghan landscape based loosely on footage and past works. Proximity and format were important, as I wanted to achieve an illusion that the viewer is very close to the subject and can almost sense his presence.'

Daley prepares her own surfaces for painting using layers of rabbit-skin glue – a size used on canvas by Renaissance painters – and whiting. She recently began experimenting with adding pigments to a rabbit-skin glue base and painting with it. Daley has developed this hybrid technique using traditional materials and systems in a contemporary way.

Daley graduated from the National Art School, East Sydney in 1998. She has had three solo exhibitions and several group shows. She has been a finalist in the Conrad Jupiter's Art Prize twice, acquired for the Jacaranda Drawing Award in 2004 and was a finalist in the Outback Art Prize at Broken Hill Regional Gallery.