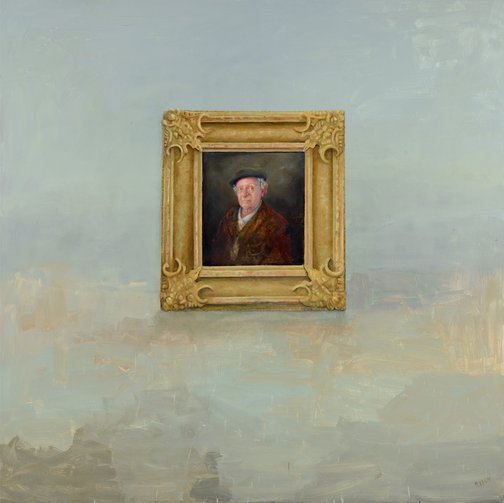 Melissa Egan
Old master, Charles Blackman
Medium

oil on linen

Read label text

Melissa Egan's subject, Charles Blackman, is one of Australia's modern masters whose highly sought-after figurative work includes his famous Schoolgirl and Alice in Wonderland series of the 1950s. Born in 1928, he has exhibited around the world and is represented in collections in Australia, Europe, Asia and America. He was awarded an OBE and the Silver Jubilee Medal in 1977 for his contribution to Australian art and has an honorary doctorate from the University of NSW.

'Charles has been a friend and mentor to me over the past 10 years and I have painted him a number of times,' says Egan. 'It has been interesting to follow his progression into his eighties where he has somewhat mellowed while still maintaining his wit and humour in his more lucid moments.

'Last year I travelled to Spain and was fortunate to view paintings by the European old masters such as Goya, Rembrandt and Velazquez among others. Inspired by Charles's physical resemblance to Rembrandt's later self-portraits, I considered his status in the Australian art world and the parallels that could be made between the European masters and Charles as an Australian "Antipodean Rembrandt".

'When I first started painting this portrait for the Archibald I did several studies on board and had intended to put one of these into a gilded 17th-century Belgian frame that I had acquired a number of years ago. Unfortunately during the process the frame started shedding big chunks of plaster and it became obvious that it would probably not endure a trip to Sydney. Not wanting to abandon the idea of painting Charles as an old master in a gilded frame I combined this concept, overlaying him onto a largely undefined background of sky and land where he would be floating in a timeless ether.'

Born in Sydney in 1959, Egan has been exhibiting as a solo artist since 1997 in Sydney, Melbourne and Brisbane. She has also shown in numerous group exhibitions. She has been a finalist in the Sulman Prize, the Portia Geach Memorial Art Award three times, the Doug Moran Portrait Prize, the Blake Prize, the Tattersall's Group Exhibition three times and the Fleurieu Peninsula Biennale Art Prize three times. This is her first time in the Archibald Prize.