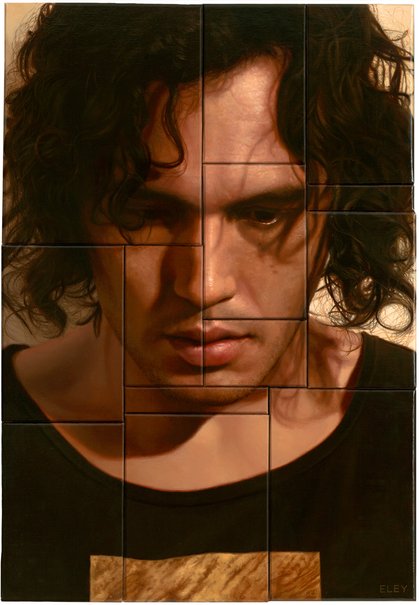 Robin Eley
Bibliography
Medium

oil on linen-bound hard cover books

Read label text

Robin Eley's painting is a self-portrait. 'Growing up as a child of an interracial marriage, I embraced my heritage with a naive sense of pride,' he says. 'It was the thing that made me stand out, that made me special. As I grew older and found other ways to distinguish myself, my heritage began to fade in importance and I came to view it as something one simply grew away from. In recent times however, as I consider a family of my own, I've come to appreciate that the view looking back is just as important and valuable as the view looking forward.'

'I have always approached self-portraits as a way of taking inventory, galvanising what I have learned and prescribing a path for the future. In this particular case I was concerned with acknowledging my combined heritage, how it has shaped who I am today, and how it may yet affect my life in the future.

'Bibliography is painted on a geometrical arrangement of 13 different shapes, 10 of which are hardcover books, custom-bound in Belgian linen. It was important for me to deconstruct the portrait into 13 smaller compositions that can be lifted and separated from the whole. Each book has been carefully selected for its significance to either Australian or Chinese culture and is presented in its entirety. The books I have chosen (left to right, top to bottom) are:

Banjo Patterson, a literary heritage, For the term of his natural life by Marcus Clarke, The selected poems by Shu Ting, The poems of Wilfred Owen, Continental's concise English–Chinese dictionary, Quotations from Confucius, The art of war by Sun Tzu, Riders in the chariot by Patrick White, Dream of red mansions by Cao Xueqin and The thorn birds by Colleen McCullough.'

Eley was born in London in 1978 to an Australian father and Chinese mother. In 1981, the family returned to Australia where he completed his secondary education. In 1997 he travelled to the US to attend Westmont College, earning his BA in Fine Arts and captaining the basketball team. His work was recently recognised in the Doug Moran National Portrait Prize (highly commended runner-up in 2010 and highly commended 3rd place in 2011). His debut solo exhibition Singularity recently concluded at Hill Smith Gallery in South Australia. He now lives in Adelaide with his wife, Rachel.