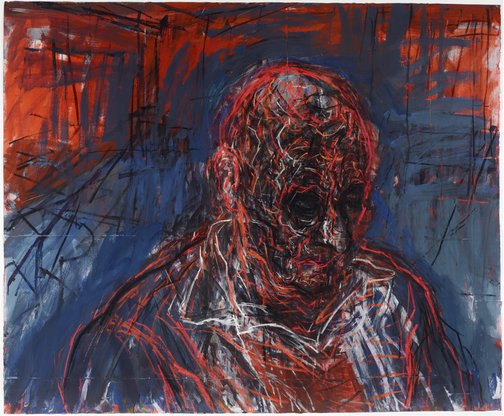 David Fairbairn
Large head JB no 1 (with blue ground)
Medium

mixed media

Read label text

David Fairbairn's subject is artist James Barker. Born in 1931, Barker combined full-time teaching with a career as a practising artist. A painter of still-life and landscape, he continues to live and work in Sydney.

Fairbairn lives in Wedderburn, NSW, a wild bushland area at the top of the Georges River, in a community with a number of other artists and craftspeople. It was through his association in the early 1980s with some of these artists that Fairbairn was introduced to Barker. 'James is 80 now. He grew up in Northwood on Sydney's lower North Shore and used to watch Lloyd Rees paint in the Lane Cove National Park,' says Fairbairn. 'He was part of that post-war generation who studied at the National Art School in the 1950s. His teachers included Jean Appleton and Frank Hinder. Fellow students included the artists Elisabeth Cummings and the late Ron Lambert. James is a visually compelling subject which was the primary impetus for asking him to pose for me.'

This portrait is part of an ongoing body of work. Fairbairn, who is best known as a draftsman, describes his works as 'a hybrid', mixing painting and drawing. 'This work uses a lot of dry pigments as well as acrylics and gouache,' he says. 'I grew up in Africa and as a result African sculpture (in particular the masks) has had a significant impact on the development of my artistic practice. My work is expressionistic not representational. It's very much about translating a sense or an impression of the sitter.'

Born in Zambia in 1949, Fairbairn studied art in London before arriving in Australia in 1981. He has had over 20 solo exhibitions, been in more than 80 group exhibitions and won over 40 art prizes and awards. These include the 1999 Dobell Drawing Prize, the 2002 Doug Moran Portrait Prize and the 2009 Kedumba Drawing Award. His work has been in the Archibald Prize eight times. Fairbairn teaches at the National Art School, Sydney. He is represented in public and private collections including the National Gallery of Australia and the Art Gallery of New South Wales. A major touring survey show of Fairbairn's work, Lineage: selected portraits 1999–2011 is currently at the Campbelltown Arts Centre.