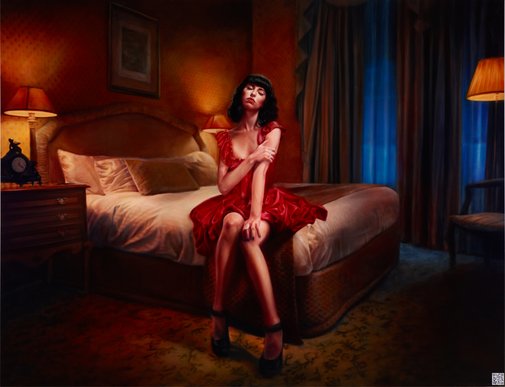 Vincent Fantauzzo
Kimbra (the build up)
Medium

oil on linen

Read label text

Kimbra is a New Zealand singer-songwriter now based in Melbourne. Her debut album Vows reached number four on the ARIA charts. She performed with Gotye on his hit single 'Somebody that I used to know', which won Best Single at the 2011 ARIA Awards. Kimbra also won the 2011 ARIA for Best Female Artist.

Vincent Fantauzzo is renowned for his portraiture. In June this year he will paint portraits of 30 inspirational Australians as part of the 30 portraits in 30 days exhibition at the National Gallery of Victoria to raise awareness for Lucid, a charity which helps people with drug and alcohol addiction. Kimbra will take part in the exhibition.

Fantauzzo was impressed when he learned of her involvement. 'I didn't know her music at that time but I thought it was special that a young person like her did so much to help others,' he says. 'Then someone brought her to my studio. I was blown away by her talent and I decided to paint her for the Archibald. I had the idea of making a video to go with the painting so I asked her to give me a song that she felt showed an intimate side to her. She gave me the song 'The build up', which she wrote when she was 16. I listened to it a lot, talked to her about it and painted this portrait based on the song. We then made a video clip – which can be viewed on YouTube – which begins with the painting and then comes to life before turning back into the painting.'

Born in England in 1977, Fantauzzo came to Australia as a child. He has a Bachelor of Fine Art (Painting) and a Master of Fine Art from RMIT University, Melbourne. This is his fourth time as an Archibald Prize finalist. He won last year's Packing Room Prize for his portrait of celebrity chef Matt Moran and the People's Choice Award in 2008 and 2009 for portraits of actor Heath Ledger and child actor Brandon Walters who starred in Baz Luhrmann's film Australia. His portrait of Ledger was also highly commended by the judges. In 2011, he won the Doug Moran Portrait Prize and the Metro Art Award and has been a finalist in numerous other art prizes. He has exhibited as a solo artist since 2005 and last year had a show at the Western Australian Museum.