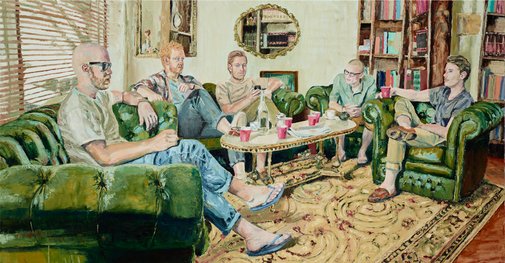 Benjamin Hedstrom
Annandale band meeting
Medium

oil on canvas

Read label text

The subjects of Benjamin Hedstrom's painting are the members of indie-folk band Boy & Bear: Jon Hart, Tim Hart, Killian Gavin, Jake Tarasenko and Dave Hosking. Founded in 2009, initially as a solo project for lead singer Hosking, it quickly expanded into a quintet. Discovered by Triple J's Unearthed program, the band was nominated for seven ARIA Awards in 2011, winning five: Group of the Year, Breakthrough Artist – Single for 'Feeding line', Breakthrough Album, Best Adult Alternative Album and the coveted Album of the Year for their debut album Moonfire.

'I know their lead guitar player Killian well,' says Hedstrom. 'We met about eight years ago through the church we both attend. I met the rest of the band through Killian. When I discussed the concept for a portrait with Killian, we agreed it was appropriate to paint the whole band not just him. I wanted to make the portrait authentic to the band so asked to meet them in a location where they do actually get together. They often have their band meetings in a cafe called The Little Marionette in Annandale. I attended, listened to their conversation, took photos, sat and drew. The painting is connected to a recent body of work. A lot of my artworks are of contemporary social environments – cafes, pubs, bars – and a theme I often include is how people use mobile phones in public places. That motif recurs throughout my work. Here, Killian is using his phone.'

Born in Sydney in 1978, Hedstrom has a Bachelor of Art Education from the College of Fine Arts, University of NSW. He is currently Head of Creative and Performing Arts at Northern Beaches Christian School. He exhibits locally at selected private exhibitions and is seeking to add to his growing body of work. He recently won the 2011 Salon Art Show Prize at the Painters Gallery in Mona Vale.