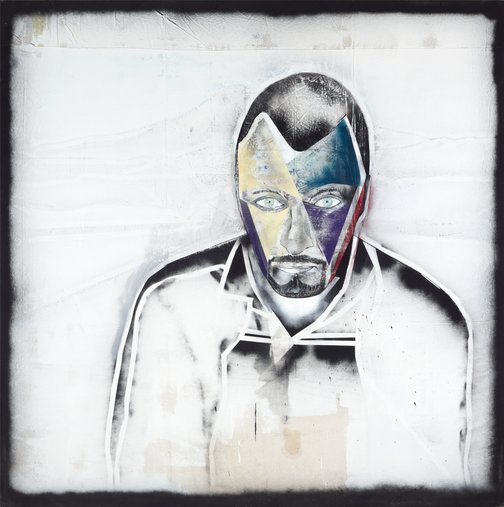 Jeremy Kibel
Jeremy Kibel – self-portrait
Medium

enamel on tarpaulin mounted on linen

Read label text

Jeremy Kibel's self-portrait is as much about self-reflection as it is about mortality. 'I was looking into myself and asking a lot of questions last year. I had lost a couple of close friends in a short time. When people close to you pass away, you start to take stock of your own life,' he says.

'The hardest part of losing my friends was knowing that they still had so much to offer the world. My friends have gone and I'm still here so you start weighing up your career and life. This is where the painting stemmed from.' For Kibel, confronting his own mortality was a very humbling experience.

Kibel is both a gallery owner and artist. He understands the highs and lows of being an artist and has a wonderful sense of camaraderie amongst fellow artists. 'Artists need an incredible level of self-belief,' he says. 'At the same time we go through periods of complete and utter desolation, wondering whether anyone really cares about our work and even looks at it.

'Artists for centuries have been dealing with the subject of one's self. I particularly like the later portraits of Francis Bacon, Picasso and Van Gogh, which are very much about fragility of the mind and body.'

Kibel was a finalist in last year's Archibald Prize with a portrait of artist Robert Jacks, who was his teacher at art school. Jacks is an abstract painter who uses geometric manipulation in his work. Kibel describes the geometric colour shards in his self portrait as 'trace elements of Robert's knowledge. The colour shards also represent the mask of an artist. It's also about using colour as emotion.'

Born in Melbourne in 1972, Kibel had his practical training in New York from 1992 to 1993, coming back to Australia in 1994 to work as a studio assistant for Robert Jacks and Jenny Watson. In 2006, he founded Blockprojects gallery in Melbourne where he supports emerging artists and in 2009 launched Blockeditions. He has been exhibiting since 2000 in both solo and group shows in Sydney and Melbourne. He has been a finalist in the Wynne Prize (2006), the ABN AMRO Emerging Art Award (2004, 2005) and the Robert Jacks Drawing Prize (2002–05).