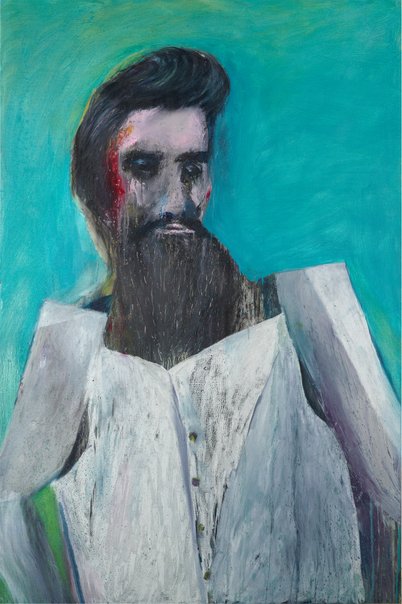 Rhys Lee
Self-portrait with shiny cardboard armour
Medium

oil on canvas

Read label text

With this self-portrait Rhys Lee was channelling Ned Kelly.

'According to my father's genealogy research I am related to Ned, so he is often in the back of my mind,' says the artist. 'The haircut and beard is quite fashionable now, the bushranger look is popular. The cardboard armour is the armour of artists that we can hide behind and protect ourselves from the world.' Lee painted the work using a mirror and a cardboard prop.

A noted colourist, Lee is known for his beautiful, eerie, haunting paintings in acrylics and oils. 'These works stir the imagination in ways akin to a powerful ghost story by the fire,' wrote Ashley Crawford in 2008. 'Despite their evident physicality, the sinuous brush strokes, the tactile, visceral mix of paint, they seem to float in an unearthly ether.'

Lee lives and works in Melbourne. He has a Bachelor of Visual Arts in Graphic Design from Queensland College of Art at Griffith University and has exhibited with great success in Australia since 1999. Career highlights have included the painting of the interior walls of RMIT University Gallery, Melbourne in 2004 and featuring on the cover of Australian Art Collector magazine, issue 33 in 2005. He was a finalist in the 2009 Doug Moran Portrait Prize. In 2009, he self-published a 300-page monograph entitled Rhys Lee, spanning 10 years of work. In 2010, he painted a large interior wall at the Vargas Museum at the University of the Philippines. His work is held in major collections in Australia and Europe. This is his first time in the Archibald Prize.