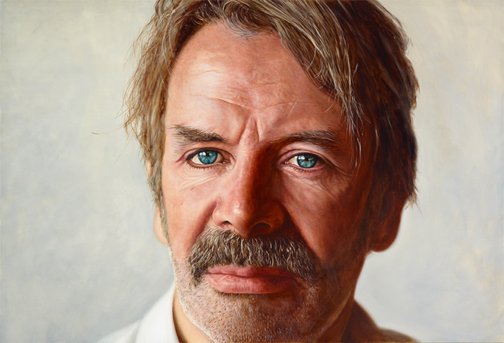 Angus McDonald
Tim Maguire
Medium

oil on canvas

Read label text

Tim Maguire is an acclaimed artist known for his sumptuous, large-scale, lushly coloured paintings of flowers and fruit. Since winning the Moet and Chandon Fellowship in 1993, he has spent much of his time in France.

'I got to know Tim a year ago during a week in Italy with some mutual friends,' says Angus McDonald. 'A month later I spent a week in London working in his studio while he was away in France. I've always loved his work. It's often described as cinematic which is true for me in its visual grandness. He's achieved so much as an artist beginning from a relatively young age. I'm inspired also by his desire to explore and discover new things with his work and remain a contemporary figure. I knew he was coming out to Australia to paint over the summer and invited him to sit for me. He agreed.

'Most people know Tim's work but as he has lived away from Australia for long periods, many are less familiar with the artist. He has a brilliant face, natural charisma and is excellent company. His eyes contain a lot of humour and the type of wisdom that almost 30 years of working and exhibiting around the world can impart to someone. I think of him as a large personality and wanted to paint him that way so that rather than the viewer looking at him, he was looking at the viewer. As I was working on the piece, I felt that the moustache gave him the look of a heroic figure of the Wild West. I went with this in the way I worked up the picture and wished to imbue it with a subtle quality of a movie poster painting.'

Born in Sydney in 1961, McDonald studied at the Julian Ashton Art School and the Florence Academy in Italy from 1999 to 2000. Since 1996, he has had over 25 solo exhibitions in Australia, Japan and the UK and has exhibited at numerous art fairs in Europe and the US. He was a finalist in the Archibald Prize in 2011 and 2009. He has also been a finalist in numerous other awards including the 2011 Keduma Drawing Award, the 2010 Blake Prize, The Country Energy Landscape Prize in 2009 and 2008 (highly commended), the 2008 Dobell Drawing Prize and the 2008 Australian Studio Furniture Design Awards where his collaborative work won a major prize. He has been to Antarctica twice, as the artist in residence on the 2008 Aurora Expedition and as the 2007 expedition.