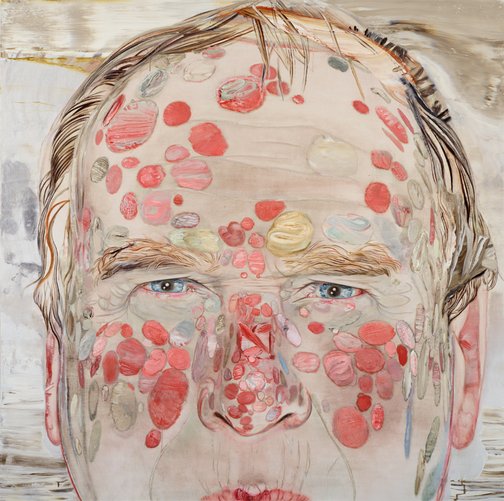 Tim McMonagle
Michael Buxton
Medium

oil on linen

Read label text

Michael Buxton is a Melbourne-based property developer and a passionate art collector. He began buying art in 1995 and now has a substantial collection of work by contemporary Australian artists both established and emerging. He is also a patron to many state and university museums and galleries.

Tim McMonagle has known Buxton for several years. 'I chose to paint him because he is a very committed patron of the visual arts,' McMonagle says. 'But the clincher was his face.'

This portrait was inspired by a preview exhibition dinner Buxton attended a few months ago prior to one of McMonagle's solo shows in Melbourne.

'He was so sunburnt. His face was radiantly red from wind and sun. Naturally I was wondering what he was thinking about the work but I kept being distracted by his sunburnt face with those piercing eyes. So it's a picture about looking and trying to understand somebody.'

McMonagle cut off the portrait at Buxton's top lip because: 'If you take the mouth away it's all in his head. You silence him so it's more about what he's thinking. But I put the top lip in because without it, it didn't look like him.'

Born in New Zealand in 1971, McMonagle studied painting at the Victorian College of the Arts, graduating in 1994. He has held 15 solo shows in commercial galleries in Sydney, Melbourne and Perth and has been in many group shows in state galleries as well as university and artist-run galleries. His work is held in many state, university and private collections.