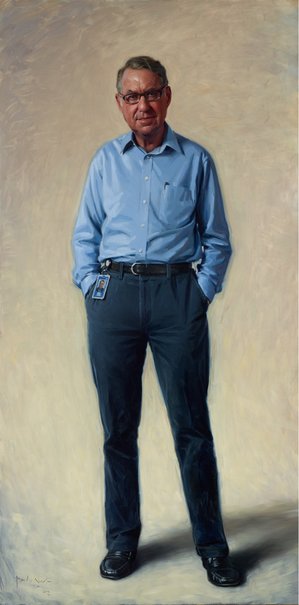 Paul Newton
Portrait of David Gonski ac
Medium

oil on linen

Read label text

David Gonski AC is a lawyer turned businessman. He is the chairman of a number of large business enterprises as well as not-for-profit organisations, including being the current chancellor of the University of NSW. He is a previous president of the Art Gallery of New South Wales's Trust and recently chaired the federal government's Review of Funding for Schooling.

'He's a fascinating guy,' says Paul Newton who approached his subject through a mutual friend. 'From conversations I had with people acquainted with him, there was never a bad word said; he seems to be universally well regarded and respected.'

Painting Gonski seated at a boardroom table would have been an obvious pose but Newton favoured the idea of him standing. 'People described him to me as a straightforward bloke so I felt that if he were standing, there would be no need for desks, chairs or anything else in the picture to visually support him,' says Newton. The austere background was inspired by a portrait Newton saw in an exhibition at The Met in New York a few years ago: Velasquez's painting of jester Pablo de Valladolid, which had the subject standing against a simple background. 'Manet was greatly inspired by this work and felt that one could almost breathe the air around the jester's figure,' says Newton. 'I've always loved Velasquez's work and I wanted to employ a similar device in my picture, to focus the viewer's attention on the subtle body language of Gonski's figure without competing distractions.'

Newton asked Gonski to dress casually for the portrait. For Gonski, being without a tie or jacket is about as casual as it gets. Gonski stands hands in pockets but his security badge is on his belt and pen in his top pocket; 'the idea being that even in his most casual moments David's not too far removed from his work,' says Newton.

Born in Sydney in 1961, Newton is a well-known, much-commissioned portrait artist. This is his 10th time as an Archibald finalist. In 2001 he won the People's Choice Award and the Packing Room Prize for his portrait of Roy and HG. He has twice been a finalist in the Doug Moran National Portrait Prize and twice won first place in the Portrait Society of America's International Portrait Competition.