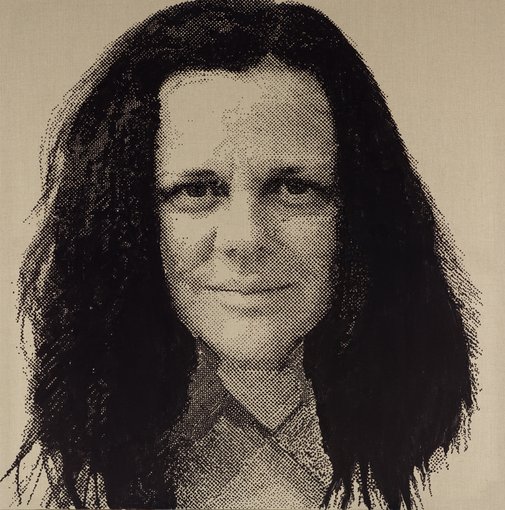 Reko Rennie
Hetti
Medium

acrylic on raw linen

Read label text

Reko Rennie's subject, Hetti Perkins, is a respected Indigenous art curator. She is a member of the East Arrernte and Kalkadoon Aboriginal peoples. Her father, Charles Perkins, was the first Aboriginal person to receive a diploma from the University of Sydney and was a leader in the movement for Aboriginal human rights.

Last year, she resigned from the Art Gallery of New South Wales where she was senior curator of Aboriginal and Torres Strait Islander Art for 13 years.

'I chose Hetti Perkins as a subject because she is a remarkable woman who stands by her convictions and follows through on issues she is passionate about. She is also my friend,' says Reko Rennie. 'Hetti believes Australia clearly needs a dedicated public institution for Aboriginal and Torres Strait Islander art.'

'A fairly simple, powerful image of Hetti, incorporating a contemporary use of dots and diamonds on raw linen, is how the work first appeared to me when I visualised it, and this is how it was executed. Some of the work was completed with an acrylic paint marker, which facilitated a pixel effect. The use of an acrylic paint marker reflects my long connection to the techniques and aesthetic of graffiti.'

Born in Melbourne in 1974, Rennie is a Kamilaroi/Gamilaraay/Gummaroi man. Through his art he explores what it means to be an urban Aboriginal in contemporary Australian society. Rennie received no formal art training but as a teenager discovered graffiti, which became an all-consuming passion. He quickly began producing original art on the streets of Melbourne and has since matured into an interrogative and innovative artist. His art and installations explore issues of identity, race, law and justice, land rights, stolen generations and other issues affecting Aboriginal and Torres Strait Islander people. Drawing inspiration from his heritage, he recreates traditional images in a contemporary context using spray paint and stencils. He has exhibited in group shows since 2007 and in solo shows since 2009. He was a prize winner at the 2008 Victorian Indigenous Art Awards.