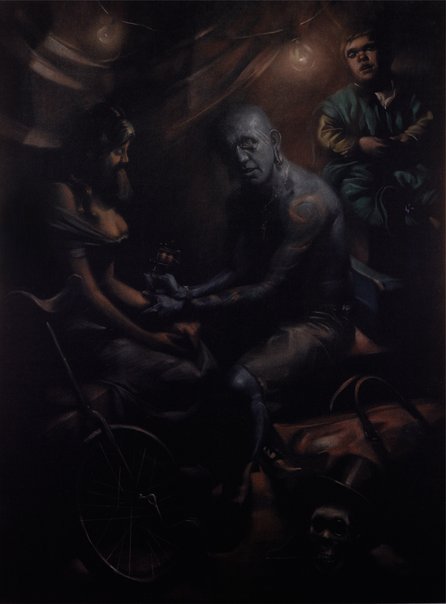 Leslie Rice
Seeking a change, Madame Lulu, bearded lady, becomes 'Tattooed Suzie' – portrait of Lucky 'Diamond' Rich
Medium

acrylic on velvet

Read label text

Leslie Rice's subject Lucky 'Diamond' Rich is the Guinness Book of World Records's most tattooed person, a record he has held since 2006 with 100 percent of his body covered with tattoos.

Performing acrobatics with circus companies since the age of eight, his act includes juggling chainsaws, swallowing swords and riding a four-metre unicycle. 'In years gone by, carnival life and a dedication to being heavily tattooed went hand in hand – both were the province of societal fringe dwellers,' says Rice. 'Lucky married his performance with a commitment to eventually becoming the world's most tattooed person.

'My father has been tattooing since 1959,' says Rice. 'I learned the trade from him at age 16 and tattooed for 12 years before studying painting. I still tattoo roughly half the time as I feel it keeps my painting honest and free from commercial pressures. Lucky (also a tattooist) and I have known each other in the business for some time. Late last year we worked together in Sydney and I was struck by Lucky's thoughtful attitude and serious commitment to his project. I realised that he truly is a relic somehow left over from a bygone era – a nomad and a sideshow attraction; the carnival is in his blood.

'My painting practice deals with kitsch and middle-class taste, hence the choice to paint on black velvet, famous for its lowbrow connotation. Perfect for experimentation with nostalgia, it also acts as a vehicle to present figures that emerge from and dissolve into shadow. In this dark tableaux Lucky helps a bearded lady take the first step toward forever becoming something else, she is perhaps inspired by my current body of work which deals with the liminal nature of mythical Greek beasts.'

Born in Sydney in 1976, Rice completed a Bachelor of Fine Arts (Hons) at the National Art School in 2006 and has exhibited as a solo artist since 2008. He won the Doug Moran National Portrait Prize in 2007 and has been a regular finalist in the Blake Prize. He was a finalist in the 2008 Archibald Prize and the 2010 Salon des Refusés.