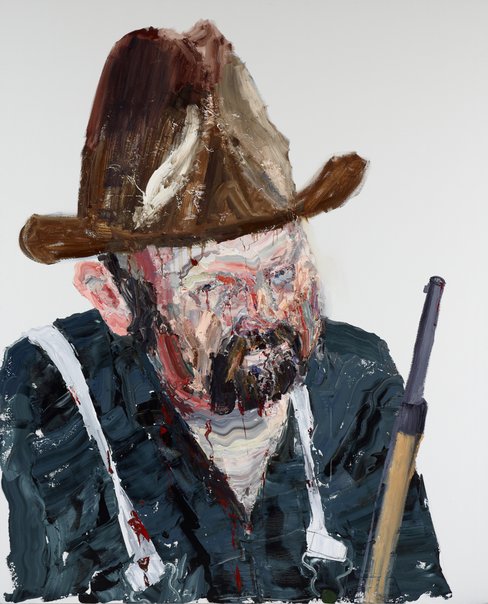 Paul Ryan
Cullen – been feudin
Medium

oil on linen

Read label text

Paul Ryan's subject, Adam Cullen, is one of Australia's most recognisable and controversial contemporary artists whose confronting subjects include crime and masculinity. He won the Archibald Prize in 2000 and is a finalist this year.

'I'd been thinking about painting him for years,' says Ryan. 'He's a well-known provocateur and ratbag. He's cultivated this image as the wild boy of Australian art, or the media has, which I find really interesting. I had this image of him as a hillbilly living in the Blue Mountains where he has his studio, drinking, pig hunting and throwing paint around. So I watched the movie Deliverance to get into the right frame of mind to paint him.

'His work really polarises opinion. Years ago I didn't like it much, then something clicked. I now have a great admiration for what he paints. I think he is holding a mirror up to Australian culture and society and saying, "drop the facade, this is the reality of who we are". That seems to upset some Australians.'

Last year, Cullen faced charges of possessing guns and prohibited weapons in a car he was allegedly driving while drunk. He had been using some of the guns to create work for a solo show in which he fired them at aerosol paint cans. He received a 10-month suspended jail sentence.

Ryan took two trips to the Blue Mountains to work on the portrait. 'The first one was a week before Adam went to court and he was depressed and quite unwell,' says Ryan. 'The next time, after [sentencing], he was painting again and talking lucidly about his work. I did sketches of him and he did sketches of me. It was natural and fun. We've become good friends through the process.'

Born in Auckland in 1964, Ryan has had regular solo exhibitions since 1988 and has been included in many group shows. His subjects include landscape, relations between Indigenous Australians and settlers, and portraiture. This is his 10th time in the Archibald Prize. He has been a finalist in the Wynne Prize three times and the Sulman Prize four times and won the 2010 Paddington Art Prize for landscape.