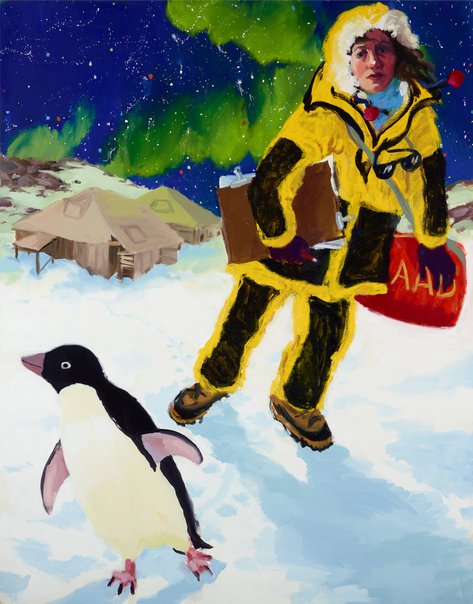 Wendy Sharpe
Self-portrait in Antarctica with penguin and Mawson's huts
Medium

oil on linen

Read label text

This year is the centenary of the Antarctic expedition of the Australian explorer Douglas Mawson. Wendy Sharpe was invited to go on the centenary voyage to Antarctica by the Mawson's Hut Foundation, an organisation that works to preserve the huts built by Mawson's expedition team.

'I was the only artist among marine scientists on an icebreaker for nearly six weeks,' says Sharpe, who was allocated a small studio space near the bridge of the ship. 'I worked all day, every day, and produced over 100 gouaches (opaque watercolours),' she says. 'It was an incredible experience. I drew ice, icebergs, ship life – and, of course, penguins! I got to fly by helicopter to the huts, which are in utter isolation on the edge of Antarctica. Inside they are intimate and poignant with broken furniture and things left by the original expedition.

'In this painting I am carrying the Australian Antarctic Division emergency survival bag and wearing their special Antarctic clothing. Beside me is an Adele penguin. They were fascinating to watch and unafraid. I think they were nearly as curious about us as we were of them. Behind are the huts and the southern aurora.'

Sharpe will be exhibiting the work she produced later this year in Sydney to raise money to help preserve the huts.

Watch a short video about Wendy Sharpe's visit to Antarctica

Born in 1960, Sharpe lives and works in Sydney. She has had over 30 solo exhibitions, including a retrospective at the SH Ervin Gallery last year and a new exhibition in October at King Street Gallery on William. She has been a finalist in the Archibald, Wynne and Sulman prizes numerous times. She won the Sulman in 1986 at age 26 (judged by Albert Tucker) and the Archibald in 1996 with a self-portrait as 'Diana of Erskineville'. She has also won the Portia Geach Memorial Award twice. She was appointed by the Australian War Memorial to cover the Interfet peacekeeping operations in East Timor in 1999 and was recently awarded a residency at the Australian Embassy in Cairo as a special guest of the Australian ambassador.