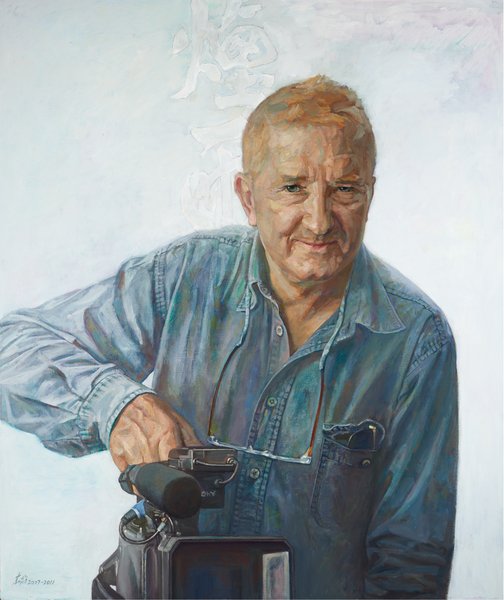 Jiawei Shen
Homage to Esben Storm
Medium

oil on canvas

Read label text

Esben Storm (1950–2011) was a Danish-born Australian filmmaker, well known for his work on the Australian children's television program Round the twist. In 2005, Jiawei Shen received a phone call from Storm asking to make a documentary about his career. 'As a Danish–Australian he was excited about my portrait of Princess Mary of Denmark, commissioned by the National Portrait Gallery that year, and he was even more interested in my life journey from one of Mao's Red Guards to an acclaimed Chinese–Australian artist,' says Shen.

When Shen agreed, Storm immediately visited his hometown of Jiaxing near Shanghai. In 2006, they visited Denmark together and in 2007 spent a month travelling around China. The result was a documentary entitled Goodbye revolution, which aired on SBS in 2008.

'We had more plans. He was going to make a new documentary about my largest work, Tower of Babel, which I planned to finish in 2017. I was going to paint his portrait for the Archibald,' says Shen. 'One oil study of his head done in 2007 can be seen in Goodbye revolution. He died suddenly of a heart attack in March 2011 at age 60. I finished his portrait finally this year – but too late for him.'

'Esben was such a wonderful man. In my painting I tried to capture his tricky smile, which often appeared when he found an interesting moment he wanted to shoot but didn't want me to notice. In the background there are two Chinese characters. It is the name of an ancient building on a small island in the centre of South Lake in Jiaxing. Esben shot a party of me with my old friends in that building. They mean "the rain looks like smoke", which is so poetic with a blue emotion. It was the emotion always with me when I painted this portrait.'

Born in Shanghai in 1948, and now based in Sydney, Shen is a largely self-taught artist. He was very well known in China in the 1970s where he won the National Art Exhibition Prize five times. This is his 13th time as an Archibald finalist. He was named runner-up in 1997. He won the Sulman Prize in 2006 and the Mary MacKillop Art Award in 1995. He is regularly commissioned to paint portraits including one of the Hon John Howard for Parliament House.