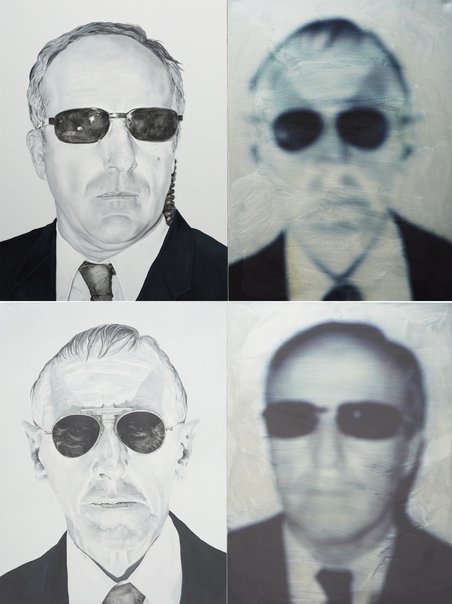 Frank Thirion Gary Smith
The faceless men
Medium

oil on canvas (Frank Thirion), acrylic and pigment on canvas (Gary Smith)

Read label text

The faceless men is a collaborative work between Canberra artists Gary Smith and Frank Thirion. The four-panel work consists of two panels by each artist: one a self-portrait, the other a portrait of his collaborator. The tonally restrained work consciously blends and contrasts two distinct painterly approaches: realism and gestural expressionism.

This collaboration arises from an ongoing ten-year dialogue about artistic practice between the two artists, which began when they shared adjoining studios at the Australian National University School of Art while they were undertaking postgraduate studies in painting.
The portrait is concerned with themes of identity, interrogation and making those who might remain invisible, present. It continues the artistic tradition of self-portraiture through exploring self, other universes using mirrors and role-playing, opening a dialogue with the audience about portraiture and artistic identity. The subject of this work is really the viewer's response, as viewers are forced to reflect on themselves by men in sunglasses who are not returning their gaze.

Smith was born in Geelong, Victoria, and holds a Master of Philosophy in painting from the Australian National University. He was a finalist in the Waterhouse Natural History Art Prize, Adelaide in 2009.

Thirion was born in Paris, France, and holds a PhD in painting from the Australian National University. His awards include the Canberra Critics' Circle Award for Visual Arts in 2009, the Canberra Art Prize in 2002, and the ANU Tillyard Prize in 1999. He is a four-time finalist in the Wynne Prize.