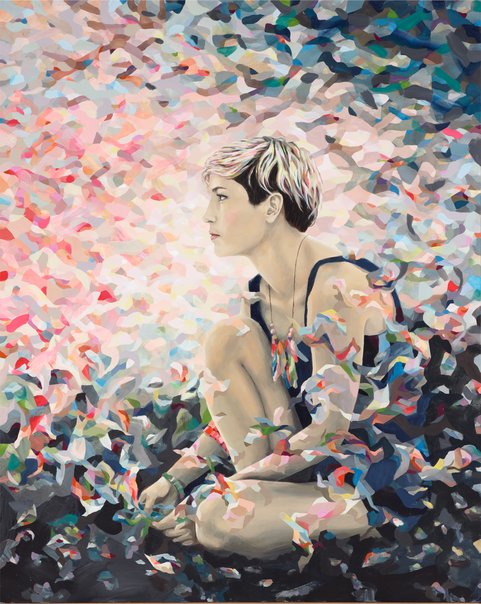 Kate Tucker
Melody (you're the only one who saves me) – portrait of Missy Higgins
Medium

acrylic on linen

Read label text

Missy Higgins is a popular, ARIA Award-winning singer-songwriter. Kate Tucker recently created the artwork for Higgins's third album, due for release in the middle of the year.

'I have always loved Missy's music and respected her for speaking out about issues she believes in,' says Tucker. 'I was delighted to be introduced to her through a mutual friend last year, which over time led to me painting the cover for her third album. It was an incredible experience. Music is a big part of my life and to collaborate with such a talented artist was hugely inspiring. Painting her portrait for the Archibald was a very natural extension to our work on the album.

'Missy is a deeply intelligent, funny and generous person. She is grateful for the success she has had, but also thinks deeply about what that success means and is dedicated to making a meaningful contribution to the world,' says Tucker. 'She is extremely honest and brave enough to lay herself bare through her music, yet she is also sensitive and private. I wanted to capture her in a private moment, deep in thought. She sits alone and still on the cool earth, as she is a great lover of nature. Her creativity is authentic and electrifying, it permeates her entire being, and she brings with her a swirl of glistening brightness. I wanted to capture the light and the dark, the stillness and also the blast of colour and swirling activity that surrounds her.'

Born in Canberra in 1980, Tucker is a Melbourne-based artist. She completed a Bachelor of Design in Multimedia Design at Swinburne University in 2003, and a Graduate Diploma in Visual Art at the Victorian College of the Arts in 2009. She has had a number of successful solo exhibitions including shows at c3 Contemporary Art Space, Platform Public Art Space and Edwina Corlette Gallery in 2011. A solo exhibition of her new work will open at Helen Gory Galerie, Melbourne in August 2012. Her work has also been included in several group exhibitions.