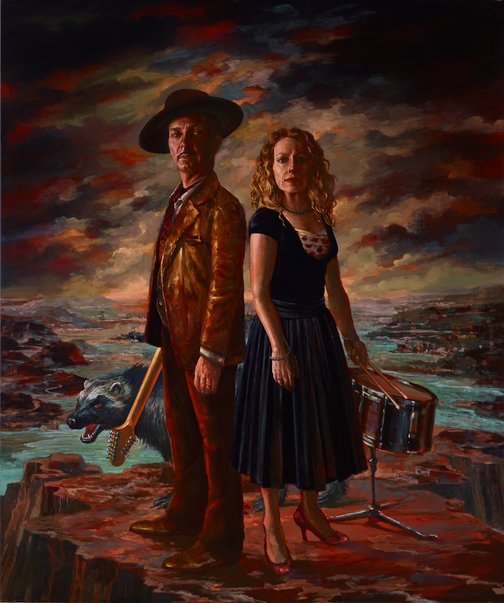 Michael Vale
Night of the wolverine – a portrait of Dave Graney and Clare Moore
Medium

oil on linen

Read label text

Dave Graney and Clare Moore are we1l-known Australian rock'n'roll musicians. Over the last 30 years, they have fronted numerous bands including The Moodists, The White Buffaloes, The Coral Snakes, The Dave Graney Show and currently, The Lurid Yellow Mist (aka the mistLY). Graney is an ARIA Award-winning singer, songwriter and guitarist. Moore is a songwriter, arranger and producer who plays drums, keyboard and vibraphone … and sings.

'I first heard their album Night of the wolverine in about 1994,' says Michael Vale. 'The title track is one of those mysterious, moody songs where the words and music combine to take you to uncharted places. The song has stayed in my head ever since, ready to be re-played at a moment's notice. Its creators, Dave Graney and Clare Moore, have remained consistently original and independent, always doing things their own way.

'In my painting I have attempted to represent the place the song has always taken me to; an atmosphere that's pregnant with dangerous possibilities. I also wanted to capture the defiant, independent stance of Graney and Moore. It would, of course, have been remiss to not include a lurking wolverine. The idea for the portrait came about after immersing myself in a book of Anthony van Dyck's paintings of proud people standing against enigmatic skies with a civil war about to erupt around them. Van Dyck, Graney/Moore, Night of the wolverine: it all seemed to align in the right way.'

Born in Albury in 1952, Vale is currently a lecturer in the School of Fine Art at Monash University, Melbourne, where he teaches painting and film. He got to know his subjects while working as production designer on an independent feature film, Johnny Ghost (directed by Donna McRae in 2011) for which Graney and Moore wrote the soundtrack. He has co-written a feature film with McRae, Le chien qui fume, which is currently at the financing stage. The film is about a smoking dog, the subject of many of Vale's paintings and short films.