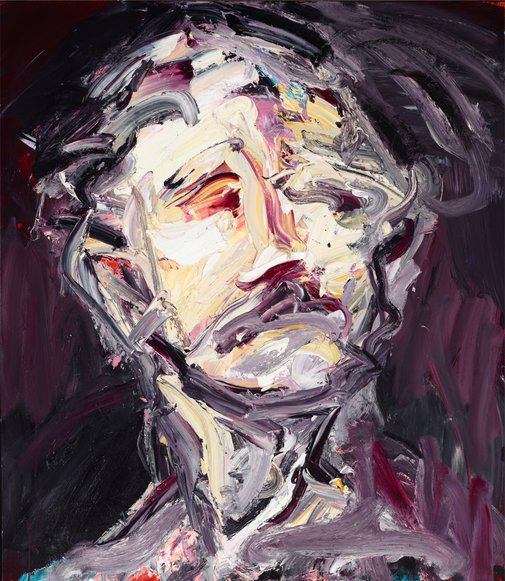 Craig Waddell
I see myself in you – self-portrait
Medium

oil on linen

Read label text

'The self-portrait I see myself in you was inspired by my wife Jessie and our deep, abiding relationship. She and I have shared countless hours together in the studio; she has also modelled for me many times.

'When I paint my wife my senses are highly stimulated; she brings out a passion in me like no other: a passion for life, for love and for paint. This painting is the third in a series of three self-portraits, inspired by a portrait of Jess I had painted a month previously. (The work is actually painted over an older portrait of Jessie as well, so she is very present here.)

'In representing myself, I have tried to retain the energy I feel when painting her as well as capture the natural distortions that happen when you observe yourself in the mirror while in the physical act of painting. Every stroke has been applied spontaneously and relates to the movement of the one before it. Scraping, pulling and pushing paint around the surface, I have sought to capture what I see and feel rather than a pictorial likeness. I am trying to create a painting that the viewer can not only see but also feel; the layered surface records a point in time and the tracing of the artist's hand.

'I believe my wife is still present within this painting. We share a bond that cannot be broken.'

Born in Sydney in 1973, Waddell graduated with a Bachelor of Fine Art from the National Art School in 1999 and a Master of Fine Art (Printmaking) at the Chiang Mai University, Thailand 2004. His recent awards include the 2008 Moya Dyring, Art Gallery of New South Wales residency at the Cite Internationale des Arts, Paris; the 2007 Marten Bequest Travelling Art Scholarship; and the 2007 Artspace residency at the Gunnery in Sydney. His many prizes include the Mosman Art Prize in 2010, the Woollahra Small Sculpture Prize and the Tattersall's Art Prize for landscape painting both in 2005, and the Paddington Art Prize and the Norville Australian Landscape Prize both in 2004. Waddell was a finalist in the 2006 Achibald Prize and was also included in 2006 Salon des Refusés. In 2005 he was a finalist in the Blake Prize and the Wynne Prize and is a finalist again in this year's Wynne Prize.