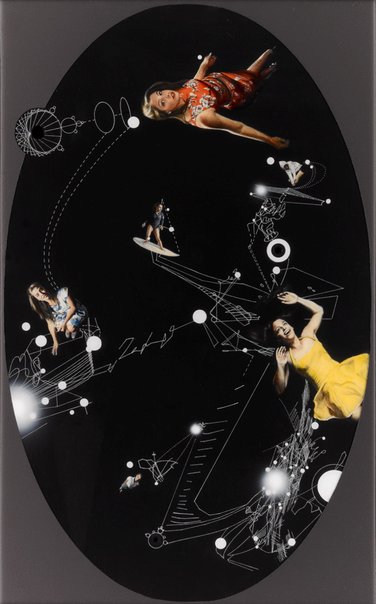 Giles Alexander
Simulations
Medium

oil, ink and resin on aluminium

Read label text

Lily Serna, the subject of Giles Alexander's painting Simulations, is a mathematician best known for co-presenting the games show Letters and numbers and cooking show Destination flavour for SBS.

'I first became aware of Lily through the cult SBS "brain-show" Letters and numbers, where she performs incredible feats of mental arithmetic,' says Alexander. 'I thought her combination of brains and playful charm would make an interesting subject for a painting.

'Lily's interest in fractals, and their role in her honours research project on simulating fluid dynamics in flood-affected Queensland, seemed to complement an aesthetic developing within my own work. The themes developed between us allowed me to explore ideas of space, time and the relevance of realist painting or "simulation" that are recurring concerns in my practice. We aimed to illuminate the various sides of Lily finding her way in the fickle light of celebrity while maintaining a personal, professional and academic life.'

Alexander is known for his complex, allegorical paintings, which reference old world art and use high-gloss resin over traditional oil painting techniques. Also a finalist in this year's Sulman Prize, he has been a finalist in the Archibald Prize on two previous occasions and in several other high-profile prizes in the past few years. He is represented by galleries in Sydney, London and Hong Kong.