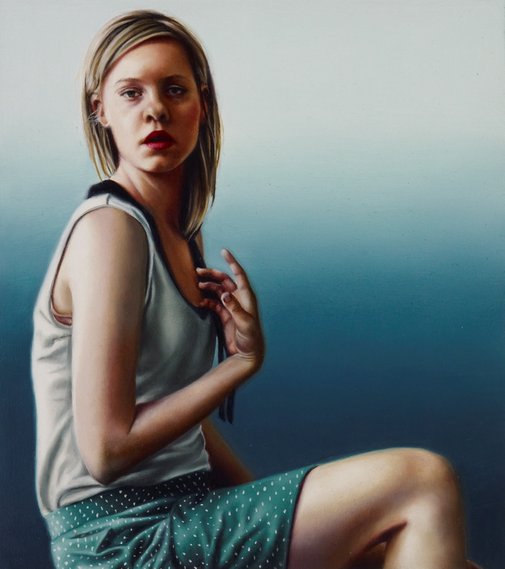 Natasha Bieniek
Application
Medium

oil on Dibond

Read label text

This is the third consecutive year that Natasha Bieniek has been represented in the Archibald Prize with a miniature self-portrait.

Her work Application uses traditional painting methods to examine the emphasis on image in our digital media-obsessed culture.

'More than ever, we use images to connect and communicate with the outside world,' says Bieniek. 'Social networking sites enable us to share a part of ourselves, sometimes honestly and at other times with fabricated versions of our existence. This is also inherently common in portrait painting.'

Bieniek has painted the work on Dibond – a coated aluminium composite usually used for industrial products. 'It has a slick, glossy quality, not unlike that of a smartphone,' she says. 'The use of handheld devices miniaturises the way we observe pictures on a regular basis. I'm interested in sharing a link between how we perceive images in contemporary culture and how we have done so in the past.'

In 16th-century Italian painting, a raised finger was used to symbolise religious beliefs or to lead the viewer's attention to a certain point. Here Bieniek uses it to direct the focus back to the individual to underscore the theme of self-portrayal and the widespread exposure of our own image through modern channels.

Born in Melbourne in 1984, Bieniek is renowned for her miniature portraits. In 2012 she won the Metro Art Award and was runner-up in the Doug Moran National Portrait Prize.