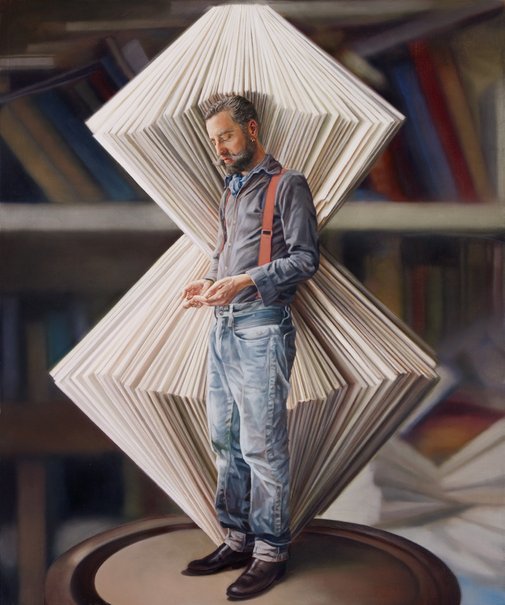 Julia Ciccarone
Portrait of Nicholas Jones
Medium

oil on linen

Read label text

Nicholas Jones is a Melbourne-based sculptor who makes works from books and printed paper. Julia Ciccarone first met him five years ago when they both gave a talk at the State Library of Victoria in Melbourne.

'He's an interesting looking fellow, always immaculately dressed and well groomed with that great beard, so visually I thought he'd be great to paint,' she says. 'I also really love the material quality of his sculptures.'

Ciccarone has featured one of Jones's paper sculptures in the portrait but has played with the scale. In reality the sculpture is far smaller – around 25 centimetres high.

'I had a vision of him looking at his hands as they need to be so steady and precise when he is cutting and folding the paper,' she says. 'When I suggested it, he said it was weird because his hands were a bit shaky as he'd just had a kidney transplant. However, he's now well on the road to recovery.'

Ciccarone's atmospheric paintings exude a strong sense of narrative drama. In 2007, keen to make one of her paintings move, she enlisted the help of Kazimir Burgess who directed a short film called 67, inspired by her painting This mortal coil. They followed this up with Lily, which won Best Short Film at the 2011 Berlin International Film Festival. Now Ciccarone is working as art director on Burgess's first feature film.