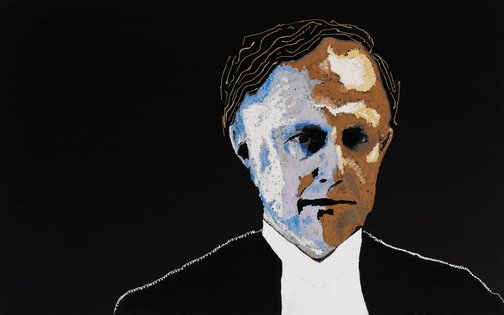 John Emmerig
Gageler
Medium

oil and acrylic on canvas

Read label text

John Emmerig's subject is Justice Stephen Gageler, who was appointed to the High Court of Australia in October 2012. Prior to that he was the Commonwealth Solicitor-General for four years from 2008 and before that a senior counsel at the Sydney Bar.

'My painting style is about low clutter. I try for simple but powerful forms, colour contrast, and a degree of rawness and unconventionality in the presentation,' says Emmerig.

'The character of the sitter is very important to me. I am looking for a defining or special quality that says something fundamental about the person, or their story, that I like and can convey in the work. Whatever that character trait is, I need to be comfortable in my own mind that it is the "real deal", so I am unlikely to paint someone unless I have been able to observe them firsthand for a sufficient period to feel that I have a true sense of the person.

'In Gageler, I seek to convey an essence of quiet strength that I observe in Stephen. That is, a depth and quality of character that is unassuming yet overtly underpinned by a powerful intellect, a humble but determined nature, high integrity, and a calm and considerate manner.'

John Emmerig is a Sydney lawyer and partner with the global law firm Jones Day. His spare-time interests include portrait painting. He has known Justice Gageler for more than 20 years.