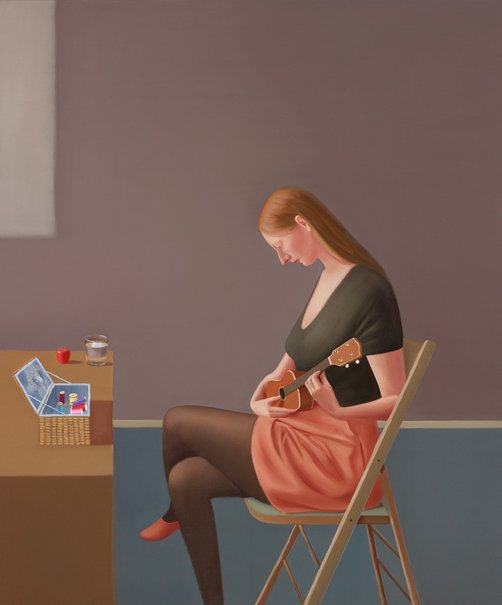 Prudence Flint
Ukulele
Medium

oil on linen

Read label text

The subject of Prudence Flint's painting Ukulele is young academic Athena Bellas, but Flint didn't actually set out to paint her portrait.

'I prefer to approach my paintings in an open-ended way,' she says. 'Athena has been my special muse and confidante for several years. Last summer she began playing the ukulele. She models for many of my paintings but I felt this particular work become charged with her distinct sensual life force.'

The work is part of an ongoing series of paintings of women playing musical instruments. 'I like the way this creates an active private world,' says Flint. 'I chose to compose the figure in this way because a certain proximity and intimacy needed to be maintained between the figure, the objects on the table and the space of the room. You are lured into the painting on its own terms – I don't want the paint strokes to create any pointless drama. I want the tension to be between the things that are open and free, and the things that are closed and held. The objects on the table make a kind of metaphoric sense to me.'

Flint is also represented in this year's Sulman Prize. She was a finalist in the 2006 Archibald Prize and won the 2009 Portia Geach Memorial Award and the 2004 Doug Moran National Portrait Prize. She exhibits in Melbourne, Canberra and Hobart, where she will have her 12th solo show in October.