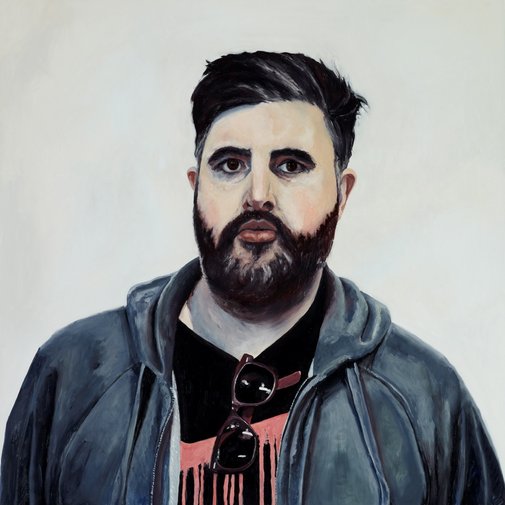 Sarah Hendy
Jasper Knight
Medium

oil on aluminium

Read label text

Jasper Knight is a Sydney-based figurative painter and sculptor known for his bold mixed media works. Still only 34, he also owns and co-directs three galleries, two in NSW and one in Singapore. He is a finalist in both this year's Archibald Prize, with a portrait of Adam Cullen, and Sulman Prize.

'I first met Jasper at his studio in Surry Hills last year,' says Sarah Hendy. 'I was there to present my first solo show in Sydney held at his gallery, Chalk Horse. Since then Jasper has taken a great deal of time out of his busy schedule to talk to me about my work, my practice and his.

'Jasper is a warm, generous and extraordinarily vivacious character. However, I've painted him looking somewhat awkward. I wanted to strip him of his personality and have him meeting the viewer's eye directly, with an unflinching stare; contrary to the way he would normally be seen. I have desaturated my colour palette, stripping back unnecessary details in order to direct the attention only to what is pertinent in making him appear this way.

'It has been quite an experience for me painting someone I know,' says Hendy. 'Normally my subjects are unfamiliar to me, sourced from books, magazines and the web.'

Born in 1982, Hendy is a Melbourne-based painter. She was a finalist in the 2012 Doug Moran National Portrait Prize and the 2010 and 2009 Metro Art Award.