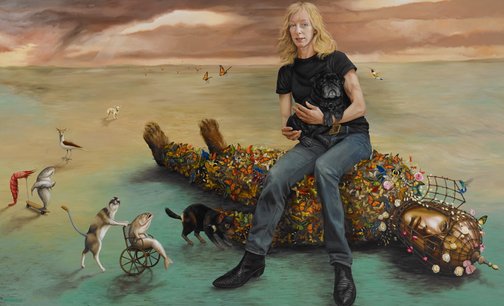 Paul Jackson
Jo
Medium

oil on linen

Read label text

Paul Jackson's subject is Joanna Braithwaite, an artist known for her exploration of the interrelationships between animals and humans. She frequently combines objects, animals and humans in unexpected ways in her intriguing, lavishly painted works. She was a finalist in the 2008 Archibald Prize with a self-portrait surrounded by chooks.

The fish, prawns and other animals, which surround her in Paul Jackson's portrait, are all references to Braithwaite's work.

A seven-time finalist in the Archibald Prize, Jackson won the 2009 Packing Room Prize for his portrait of Flacco (the alter ego of comedian Paul Livingston) and the 2006 People's Choice for a portrait of actor Garry McDonald battling depression.

Jackson believes that both works were characterised by their humanity – a quality he hopes this portrait shares.

'In Jo's case her chosen anthropomorphic take on animals carries humanity to another place, a kind of Never Never Land, where all is possible and we are left wondering who we are,' says Jackson. 'I think I have captured that sense in the background and foreground where there is a hint of shoreline and where Jo's head is in the clouds and her boots are on impossibly turquoise ground, or is it water?'

Jackson is a much-commissioned portrait artist but though the main characteristic of his artistic practice is the human head he doesn't consider his work to be portraiture as much as an examination of the human condition.