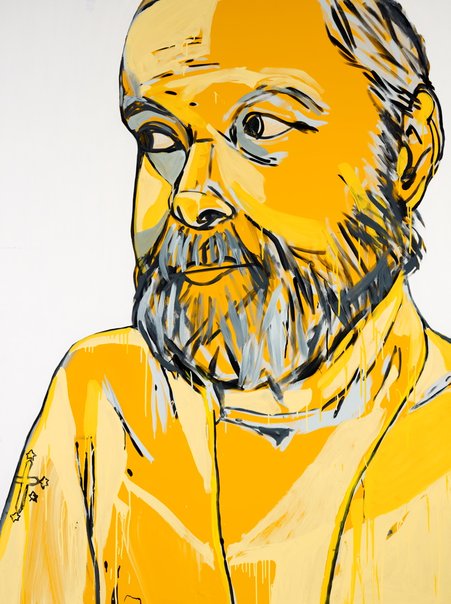 Jasper Knight
Adam Cullen: the light is a drip on a dark hood
Medium

enamel and acrylic on aluminium

Read label text

Adam Cullen was as famous for his love of guns, hunting and drinking as for his visceral, colourful paintings. He won the Archibald Prize in 2000 with a portrait of actor David Wenham. Cullen died in July 2012, aged 47, after a long illness.

Jasper Knight first met him in 2005 when they were both represented in Art on the Rocks. 'We kept bumping into each other and began hanging out,' says Knight. 'We didn't bond over the things he was famous for but we both had sickness in our lives. I take all these pills for epilepsy, the result of a brain tumour, and he had no pancreas and was a diabetic.'

For this portrait, Cullen posed in Knight's studio. 'He took his shirt off and it was quite confronting,' says Knight. 'He had surgery scars and a lot of tattoos including a swastika and a Southern Cross and a love heart with his father's name Kevin, a dagger and Magnum 44 – his favourite gun.'

Knight decided not to paint most of the tattoos. 'I wanted to show his softer side and focus on the Adam I knew.'

Knight is known for his bold mixed media works painted on assemblages of different materials, including plywood, perspex and found objects. This portrait is painted on a single sheet of yellow aluminium with Cullen's face in enamel, while the background is white acrylic. This is Knight's sixth time in the Archibald Prize. He is also a finalist in this year's Sulman Prize.