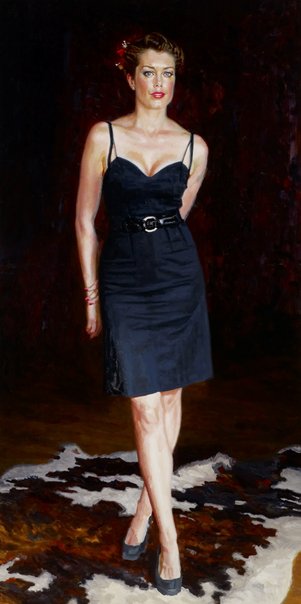 Mathew Lynn
Winner: Packing Room Prize 2013
Tara Moss
Medium

oil on linen

Read label text

Tara Moss is a novelist, television presenter, journalist and former model. She has written nine best-selling novels and her non-fiction writing has appeared in numerous publications including The Sydney Morning Herald, The Age and The Australian Literary Review. She has earned her private investigator credentials (Cert III) from the Australian Security Academy and is currently undertaking a Doctorate of Social Sciences at the University of Sydney.

Moss has also been an ambassador for the Royal Institute for Deaf and Blind Children since 2000, a UNICEF Goodwill Ambassador since 2007, and UNICEF Patron for Breastfeeding for the Baby Friendly Heath Initiative (BFHI) since 2011.

Mathew Lynn has found Moss's public advocacy and unique, evolving public persona very inspiring. Recently becoming friends, he says he wanted to paint 'a very straightforward, direct and open portrait that could suggest this evolution in some way and that also celebrates her physical presence and style, and that would particularly express her natural engagement, gentleness, and even a little of her fierce determination and strength.'

He also wanted to refer to the very strong effect a recent exhibition in Paris had on him during his working trip last year – L'Impressionnisme et la mode at the Musée d'Orsay – particularly the works of Manet and his responses to fashion and the portrait.

Lynn has been a finalist in the Archibald Prize on 12 previous occasions. He has been a runner-up twice and has also been voted People's Choice.