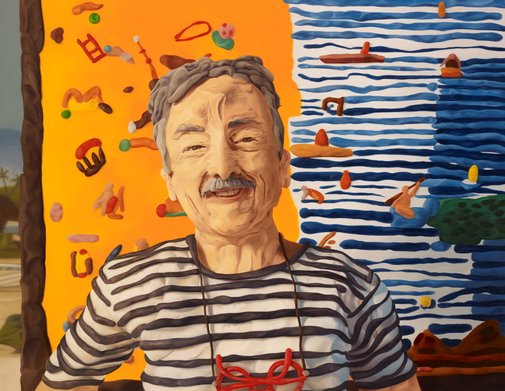 Amanda Marburg
Ken Done
Medium

oil on linen

Read label text

Ken Done has had a hugely successful career as an art director and designer, and is famous internationally for his colourful images of Sydney. At the age of 40, after painting for many years, he gave up his advertising career to focus on painting. He has had over 50 solo exhibitions and has been represented in the Archibald, Sulman, Wynne, Blake and Dobell prizes.

'Ken Done is one of Australia's most iconic figures and someone I have admired since I was a child,' says Amanda Marburg.

'My practice involves making plasticine models and then painting from those. In the background is a plasticine version of an unfinished painting of his that was on his easel when I visited his studio. I wanted the portrait to be colourful, playful, gentle, sensitive and sparkling with life, as Ken is.'

Born in 1976, Marburg is a Melbourne-based painter. Since graduating from the Victorian College of the Arts in 1999, she has had a number of solo exhibitions at galleries including Kalimanrawlins in Melbourne, Rex Irwin Gallery in Sydney and Newcastle Art Gallery. She has participated in numerous group exhibitions and was a finalist in the 2011 Archibald Prize. In 2008 she undertook a Rome studio residency funded by the Australia Council.