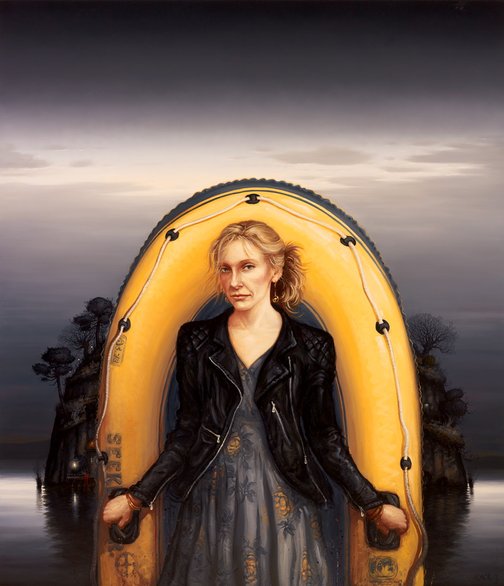 Alexander McKenzie
Toni Collette
Medium

oil on linen on canvas

Read label text

Actor Toni Collette has appeared in numerous films including Muriel's wedding, The sixth sense, About a boy and Hitchcock. She won an Emmy and a Golden Globe Award for her portrayal of a suburban housewife coping with dissociative identity disorder in the US television series United states of Tara. She also starred on Broadway in the musical The wild party.

'For me it is important to find a connection with my subject in order to paint them,' says artist Alexander McKenzie. 'I feel there is a relationship between all artists, whichever medium or field they work in, and this became the impetus behind the idea for the portrait.

'The island is symbolic of an artist's ambition: an idealised destination, an imagined future that we aim for with our work, keeping us moving forward: unattainable perhaps, but looming large in all artists' psyches. By contrast the lifeboat is a reference to the more vulnerable side of an artist's personality – the one that struggles with confidence, self-doubt and self-belief.'

Born in Sydney in 1971, McKenzie is predominantly a landscape painter known for his luminous paintings, which recall both the themes of Western symbolist painting and the techniques of the 15th-century Dutch old masters. Increasingly his paintings evoke a strong narrative content. This is his sixth time as a finalist in the Archibald Prize. He has also been represented seven times in the Wynne Prize.