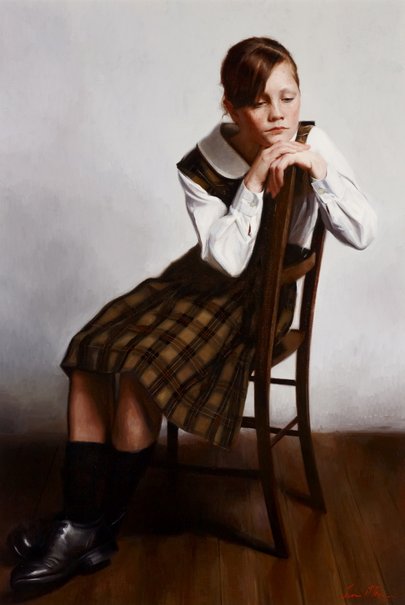 Joshua McPherson
Portrait of Ella
Medium

oil on canvas

Read label text

Ella Nicol is a young performer. Now 11, she has just appeared in the Belvoir production of Tennessee Williams' play Cat on a hot tin roof. At age nine, she landed the title role in the musical Annie, playing opposite Anthony Warlow in Sydney.

Since this is the first time Joshua McPherson has entered the Archibald Prize, he wanted to paint someone he knew well. 'Ella is the daughter of close family friends,' he says.

'During my time with Ella, trying out different poses, sketching and chatting, I was struck by her maturity, confidence and, at times, her reflective nature.

'When deciding on the pose, I chose the reflective, mature side; the side that dreams of one day being a theatre star playing the role of Elphaba in Wicked the musical. By asking Ella to sit in her school uniform, I wanted to emphasise that despite her talent and the opportunities that have come her way, she is a very grounded and humble eleven-year old.

'As a painter I was especially drawn to Ella's eyes as I feel that they reflect her special, gentle qualities. Their subtle and expressive form reminded me of many great Italian works of art that I had seen during my seven years living, studying and teaching at The Florence Academy of Art.'

McPherson currently lives in Sydney where he paints and teaches from his studio.