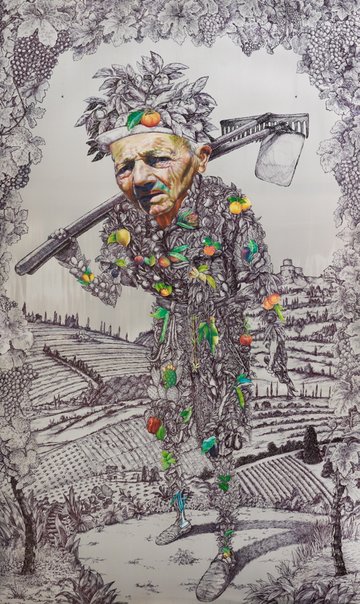 Carlo Pagoda
Habit de jardinier
Medium

oil and permanent marker on stainless steel

Read label text

The subject of Carlo Pagoda's painting is his father Pietro Pagoda.

'My father, who turned 97 earlier this year, left his rural southern Italian village in 1958 to escape post-war poverty and start a new life in "the lucky country", followed by my mother and myself a year later,' says the artist. 'He had no particular skills, money or English. He acquired all his gardening skills here while working second jobs to support his family, and in the process transformed his backyard into a self-sufficient market garden.

'The inspiration for this image came from Nicolas de Larmessin, a 17th-century French artist who produced numerous engravings depicting professions and their tools of trade, but as part of their uniform: a perfect metaphor for my father's journey and transformation.

'I used oils and permanent marker on stainless steel to create a strong juxtaposition between the hard flat reflective surface, whose lights and shadows simultaneously hide and reveal the black lines thus allowing the texture and colour of the oils to highlight the face, and the jewel-like "produce" that dangles from his suit.'

Essentially a self-taught artist, Pagoda has always made art, while pursuing a graphic design career spanning more than 30 years both here and overseas. He continues to explore various mediums and subject matter, be it in two or three dimensions.