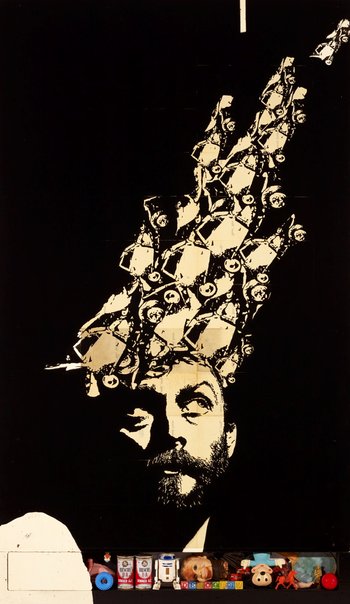 James Powditch
Ben Quilty, where is my mind? (after the Pixies)
Medium

mixed media

Read label text

Acclaimed, high-profile artist Ben Quilty won the Archibald Prize in 2011 with a portrait of Margaret Olley.

'Ben and I have a simple connection besides art,' says James Powditch. 'He owns a house opposite mine, a block from the iconic Annandale Hotel in Sydney.

'We'd met through Art of Music (a charity fundraiser at the Art Gallery of NSW) and last July he dropped over while I was building my studio and just seemed so comfortable in his own skin.

'He made his name 10 years ago with smashed cars and an intense, aggressive painting style. The rise has been fast and furious. Now 39, with gorgeous kids, he is warm, innately decent and extremely successful. Then he was appointed a trustee at the Art Gallery of NSW – art royalty no less! Would he leave childish things behind? I hope and think not.

'Debt acknowledged to Terry Gilliam and David Lynch for my image of a man at a crossroads, contemplating his past while still in his prime. The question for Ben being, "is there more to me than smashed Toranas and does there need to be?"' The title is a Pixies' song, a huge influence on Nirvana, the band of Ben's youth.

Powditch has been an Archibald finalist twice before with portraits of actor Aden Young and his father Peter Powditch. He is also a finalist in this year's Wynne Prize.