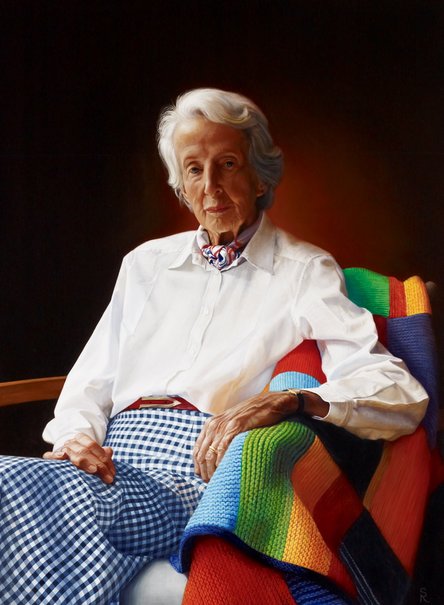 Sally Ryan
Dr Catherine Hamlin AC (MBBS FRCS FRANICOG FRCOG)
Medium

oil on linen

Read label text

Dr Catherine Hamlin is an obstetrician and gynaecologist. She and her late husband, Dr Reg Hamlin, co-founded a hospital in Addis Ababa where more than 34,000 women have been given free treatment for obstetric fistula (a childbirth injury): an amazing story told in her 2001 biography, The hospital by the river.

Her work was featured in the award-winning 2007 documentary A walk to beautiful, and in 2009 she was awarded the Right Livelihood Award – often referred to as the alternate Nobel Prize.

Sally Ryan met Dr Hamlin at a fundraising event for her Hamlin Fistula Ethiopia organisation in Sydney in 2012 where she plucked up the courage to ask if she would sit for a portrait before returning to Ethiopia.

'Catherine Hamlin is such a distinguished woman, whose manners reflect the formalities of a bygone age. Therefore, I felt I must paint her in a classic realist style after being so captivated by the beautiful paintings of the great masters I saw in the Louvre, also of a bygone era.

'The woollen shawl (which includes the green, yellow and red of the Ethiopian flag) is handmade by volunteers in Australia. It is typical of the shawls given to and treasured by the women treated at the hospital.'

Ryan lives and works in Sydney. A former graphic designer and teacher, she has been painting full-time since 2010.