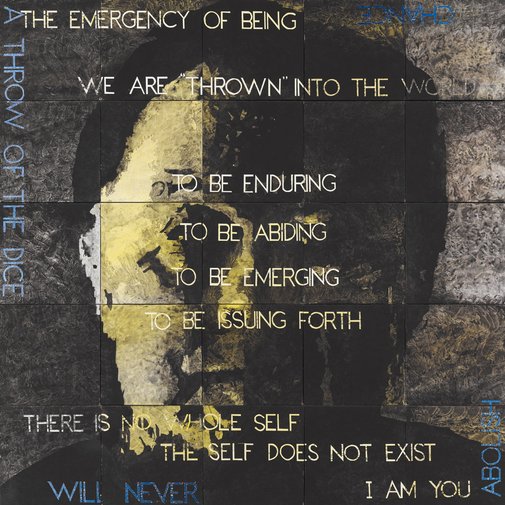 Imants Tillers
The emergency of being
Medium

acrylic and gouache on 25 canvas boards

Read label text

This is Imants Tillers' first self-portrait. 'It was painted after a period of introspection, remorse and repentance in the last few months,' he says. 'The idea for the work came while I was on an artists' retreat in February this year sponsored by the Tasmanian Land Conservancy in a remote part of Tasmania called Skullbone Plains.

'Skullbone Plains is sub-alpine heathland with encroaching eucalyptus forest – a nondescript landscape where every view is almost the same: a perfect place to become lost and not be found again. While I was there I took photos of white lichen on black rocks (looking for traces of skull bones) and read excerpts from Richard Polt's book on Martin Heidegger: The emergency of being.

'Back in my studio in Cooma, the work was painted exceptionally quickly for me – just in a couple of days in a state of total isolation, heightened anxiety and self-doubt. The textual quotations come from poets Stephane Mallarmé, Luis Borges, Novalis and, of course, Martin Heidegger.

'To quote Japanese writer Haniya Yutaka: "I am 'I' who is becoming 'I' who is not I."'

Tillers has been at the forefront of contemporary Australian art for more than three decades. He is known internationally for his use of appropriation and quotation to which he has increasingly bought a distinctly personal, idiosyncratic dynamic. Tillers is also a finalist in this year's Wynne Prize.