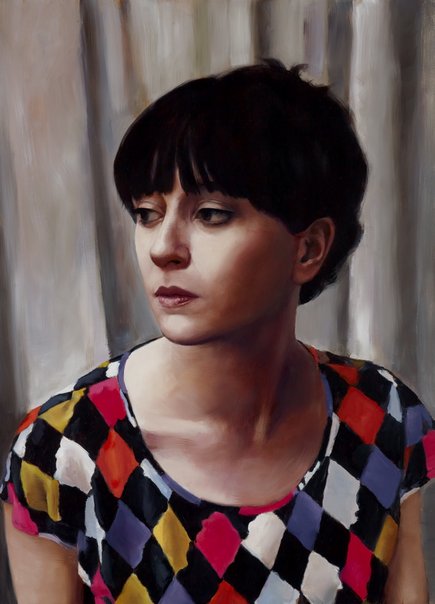 Heidi Yardley
Self-portrait: harlequin
Medium

oil on board

Read label text

This self-portrait references the harlequin and the legacy of paintings of this enigmatic character, notably Picasso's At the Lapin Agile (Harlequin with glass) from 1905.

Appearing as early as the 16th century, the harlequin was the comic servant in Italian commedia dell'arte.

'The silk top that I am wearing is the result of a collaboration between the artist Rhys Lee and fashion designer Lisa Gorman,' says artist Heidi Yardley. 'When I saw the garments I was not only seduced by the colour and pattern but also immediately thought of Picasso's harlequin paintings.

'Painting itself is a kind of performance involving much improvisation. As an artist creating a self-portrait, I feel that I am putting myself on display like a character on a stage. I have aligned notions of the deception of the performer and the trickery of a clown to that of an artist who relies on tricks of the eye. Painting is a grand deception and a self-portrait is at best a fragment of a person's character.'

Born in Melbourne in 1975, Yardley's paintings often play on nostalgia, memory and personal and cultural histories, exploring emotions such as desire and loss. She has been a finalist in a number of art prizes, including the Doug Moran National Portrait Prize. In 2011 she was recognised as one of Australia's 50 most collectable artists by Australian Art Collector magazine.