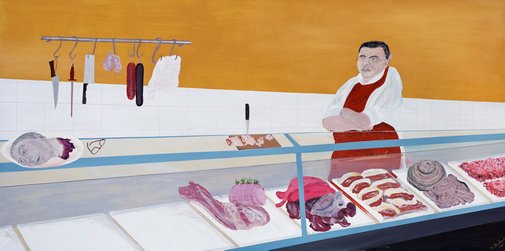 Michael Bales
Butchered
Medium

acrylic on board

Read label text

'As my artistic journey has unfolded I have become more confident about painting for myself rather than some self-imagined external audience. Flowing from this, the choice of myself as subject for this work was obvious,' says Michael Bales.

'The painting explores issues relating to the artist himself and to Australian society more broadly. In both cases the whole is made of individual parts, which need to work together to be effective.

'The butchered body, with the butcher posing over the half completed job, raises many questions. When we look at ourselves, how do we perceive the condition of our body? What lurks beneath the external veneer? When we look at our society, how do we view its current condition, and its future direction? For me these societal questions were heightened during the painting process by the recent trashing of Australian values by the Abbott government,' says Bales.

Born in Nottingham, UK in 1957, Bales has been an artist since 2004 and works in a variety of styles. Sometimes serene, sometimes dark, and sometimes just quirky, his works create strong and mixed emotions amongst viewers. He has been exhibited in the Blake Prize and in galleries in Sydney and regional New South Wales. He won the Rose Lindsay Art Prize at the 2005 Springwood Art Show and the same year was a finalist in the Signature of Sydney art competition.