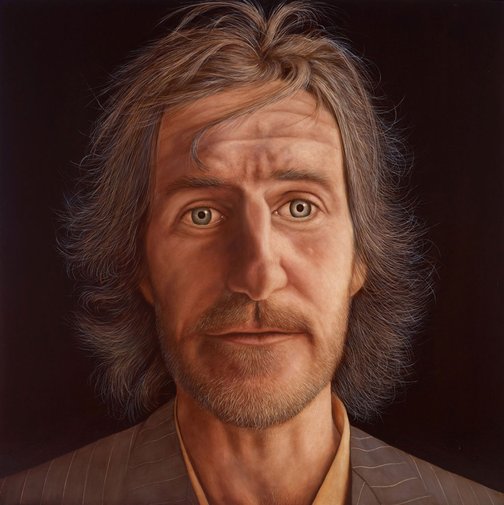 Jason Benjamin
I just wanna dream
Medium

oil on linen

Read label text

Musician Tim Rogers is best known as the frontman of Australian rock band You Am I. A fan since the early 1990s, Jason Benjamin has watched Rogers evolve as a songwriter with keen interest. 'As his songwriting has grown more personal, achingly so, I felt I would try to find a way into that. Easier said than done,' says Benjamin.

'I approach my portraits like sculpture, hence the scale. I start with quick impressions of the subject. Not sketches, whole pieces, then I chip away. In Tim's case I went in all guns blazing with the swagger and wink of the man I had seen on stage. No version worked. I had to admit to Tim when asking to meet him again that I was showing off, or trying to. I don't like the artist getting in the way of the subject. When I realised the man I'd got to know off stage was very different (naturally) I knew I must be humble and get out of the way for a warm, generous, funny, complex, world-worn person. I've lost count of how many versions but it is a piece rendered down rather than realised. It's not an idea but an affirmation of fellow feeling.'

Born in Melbourne in 1971, and now based in Sydney, Benjamin is known for his emotionally charged, visually lush landscapes, still lifes and portraits. This is his fifth time in the Archibald Prize. He won the 2005 Packing Room Prize with a portrait of Bill Hunter.