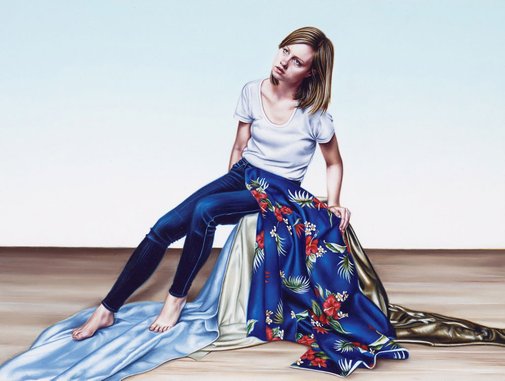 Natasha Bieniek
Isola
Medium

oil on wood

Read label text

'The act of painting is a solitary process, often devoid of human interaction. Although contemporary artists typically represent the outside world, they are often afflicted by moments of isolation,' says Natasha Bieniek. 'My self-portrait, Isola, which translates as "island" in Italian, aims to reflect on the parallel roles that seclusion and exposure play within the life of a painter.

'Self-representation is a consistently explored subject both in contemporary culture and throughout art history. Whether this is demonstrated by the social-media trend of the uploaded "selfie", or with an oil painting that examines personal consciousness, the self-portrait addresses not only individual presence but also inevitably encompasses the reflection of the observer.

'The small nature of my painting invites the viewer to inspect the work at close proximity. My aim is to form a one-on-one relationship that provokes intimacy. Composed within a vast emptiness of space, my self-portrait resembles qualities similar to a still-life painting, translating the figure into an object of observation. Isola endeavours to form a juncture between solitude, self-representation and public exposure.'

Born in Melbourne in 1984, Bieniek has been a finalist in the Archibald Prize for the past four consecutive years. Her most recent solo exhibition took place at Art Basel in Hong Kong in 2014. In 2012, she was the winner of the Metro Art Award in Melbourne and was awarded runner-up for the Doug Moran National Portrait Prize.