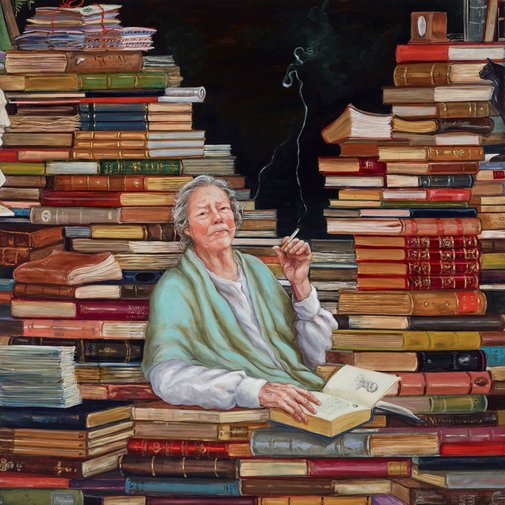 Joanna Braithwaite
Bright spark
Medium

oil on canvas

Read label text

Colleen McCullough is one of Australia's most successful authors. 'It was quite an adventure to journey to Norfolk Island to meet her,' says Joanna Braithwaite. 'I specifically went to Norfolk because I wanted to seek out and paint Col, as she calls herself, because I have been a long-term fan of her books.

'I knew Col was a feisty intellectual, not only from her books, but also from television interviews I had watched. She has a passion for art and has exhibited her own works in the past. The maps and portraits of Roman historical figures found in her series of books titled Masters of Rome were all drawn by her own hand. I make reference to this in my painting with the book she is holding.

'Colleen has dedicated her life to writing books so I chose to surround her with them. In my portrait there are several references to her passions and to objects that I saw in her home. These include a bust of Caesar and an Egyptian cat.'

Braithwaite has been exhibiting for nearly 30 years throughout New Zealand and Australia. Her work was the subject of the 2011 exhibition Significant others at the New Zealand Portrait Gallery. She has been shortlisted for many awards including the Sulman Prize, the Gallipoli Art Prize and the Portia Geach Memorial Award. This is her second time as a finalist in the Archibald Prize.