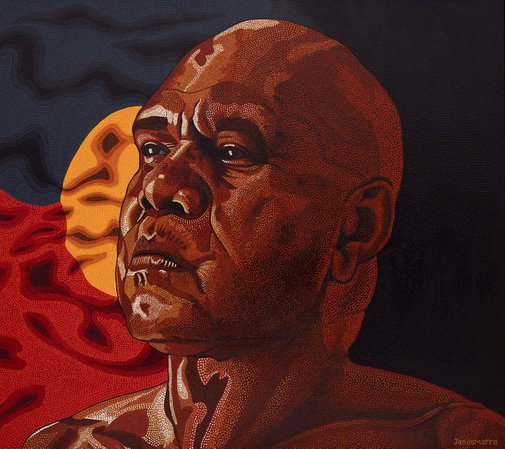 Jandamarra Cadd
Proud
Medium

acrylic on canvas

Read label text

Archie Roach is a multi-award-winning singer/songwriter. At approximately three years old he was taken from his family and lived in foster homes, before leaving with his guitar and living on the streets. During this time he wrote the song Took the children away about his experiences as a member of the Stolen Generations, for which he received an international Human Rights Achievement Award.

'To me he is a man of great inspiration and strength, someone that I have drawn on throughout the challenges in my own life,' says Jandamarra Cadd. 'This portrait shows the significance of the connection between Aboriginal people and the land – the core of our culture. The ochre dot work and its various contours could be seen as a topographical view of a vast area of land. At the same time they create the form of a strong, proud warrior as he gazes out over the country, with the glow of the fire on his back, as our ancestors did for tens of thousands of years.

Jandamarra Cadd is an Aboriginal (Yorta Yorta) man who was introduced to the paintbrush at age 15 after a troubled childhood growing up as an outsider in his own land. Painting became an outlet to transform his pain and trauma, and a visual voice for the oppressed. Twenty-seven years later he is a pioneer in portraiture, with his unique blend of traditional Aboriginal art techniques and inventive, contemporary application.