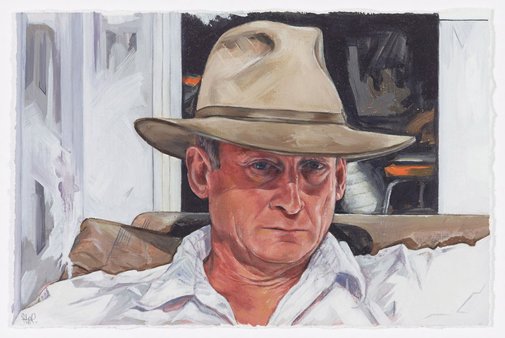 Eliza Cameron
Nice shootin' cowboy
Medium

oil on oil sketch paper

Read label text

Eliza Cameron's subject is her uncle, Australian writer Anson Cameron. He is the author of five highly acclaimed novels and two prize-winning collections of short stories (one of which is titled Nice shootin' cowboy). He currently writes a column for The Age and his latest novel, The last pulse, is being published in November.

'Anson has a wicked sense of humour and a fantastic ability to tell stories, both in his writing and in person. His narrative style is uniquely Australian and is particular to our family,' says Cameron. 'I have portrayed Anson as an Oz-laconic, trapped by the city and yearning for the bush, an amused and bemused character from one of his own novels – exactly the way I recall him as I was growing up.'

Born in 1987, Cameron is an award-winning Melbourne-based artist. She graduated with a Bachelor of Fine Arts from Monash University in 2009. She won Top Arts 2005, the St Kilda Art Supplies Award in 2009 and was highly commended in the 2012 Belle Arti Prize. She has worked on numerous portrait commissions and has exhibited her abstract works in various galleries in Melbourne. She is currently studying transpersonal art therapy at the Phoenix Institute in Melbourne.