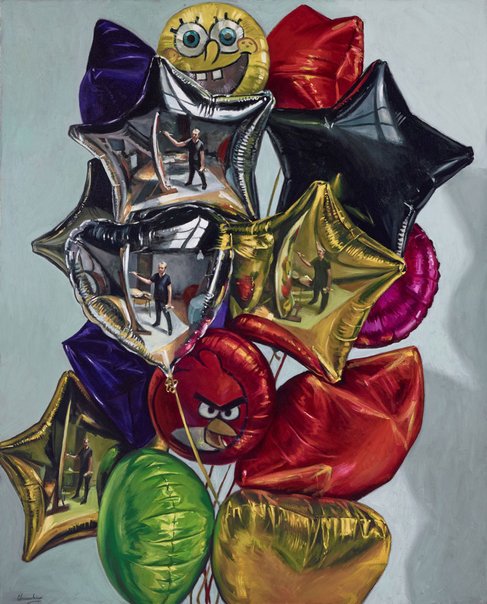 Peter Churcher
Four self-portraits in a bunch of balloons
Medium

oil on canvas

Read label text

This work is one of a series Peter Churcher has been painting in which the artist is reflected back to the viewer from the surface of objects like sunglasses and balloons. 'I have become increasingly interested in the challenge of taking on contemporary and "artificial" objects rather than the more conventional subjects for a still life, and coupling my traditional oil painting technique with these new colours and reflective surfaces,' says Churcher.

'One particular evening I was walking down a street and coming towards me was a fellow holding an enormous bunch of balloons. I thought it would make a wonderful subject for a still life. I set up a large bunch in my studio. To my delight, I noticed my own reflection very clearly looking back at me in many of the balloons. I particularly like the way each individual balloon slightly distorted my reflection the way those mirrors in the funfair used to.

'I quickly realised I was no longer looking at a straightforward still life. The subject had transformed into a quadruple self-portrait showing myself in my painting studio in four different ways. All this sets up a complex set of different scenarios within the painting. Who is looking at what? Who is looking at who? Is it a still life or a self-portrait?'

Born in Queensland in 1964, Churcher is recognised as one of Australia's leading figurative painters. This is his eighth time as an Archibald Prize finalist.