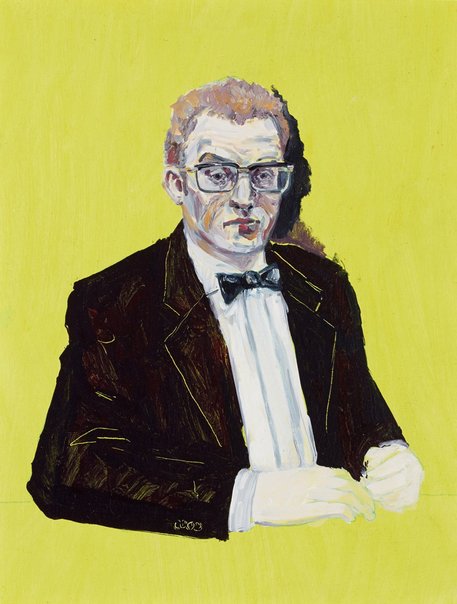 Samuel Rush Condon
What I would look like if I was John Safran
Medium

oil on composition board

Read label text

Samuel Rush Condon grew up watching documentary maker and radio broadcaster John Safran on the family television. 'I always appreciated the way he would put himself at risk to reveal truths, and his unending questioning of the world and the people in it,' says Condon. 'I felt drawn to his style. With his sharp wit, driven attitude and old-fashioned horn-rimmed glasses, he was what I wanted to paint.

'When John turned up he was wearing the only suit jacket he owned, which wasn't perfect for what I had envisaged, so I gave him mine. Standing in front of John, dressing him, was a truly strange moment. Fitting the cufflinks and putting the bow tie from my own wardrobe around his neck certainly wasn't anything I thought I'd ever do. John was very nice about the whole thing. I guess that's how the title for the work came to me. I felt it was oddly like a self-portrait since these were my clothes. If I'd superimposed my own face it really would have been.'

Born in Geelong, Victoria in 1985, Condon has a Bachelor in Fine Arts from the Victorian College of the Arts and a Master of Fine Arts from the Royal Melbourne Institute of Technology. He is currently undertaking his Masters in Art Curatorship at Melbourne University. For the past three years he has been a finalist in the Brett Whiteley Travelling Art Scholarship.