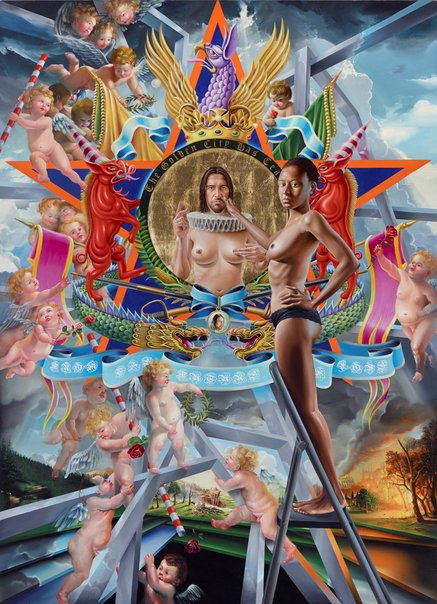 Peter Daverington
The golden city has ceased
Medium

oil on canvas

Read label text

'This is a self-portrait of my imagination, where my signature geometric and spatial elements appear among figurative compositions drawn from various painting traditions,' says Peter Daverington.

'The painting's title is inscribed as a motto beneath the coronet within a coat of arms. The phrase comes from the Old Testament book of Isaiah and refers to the fall of Babylon. In the centre field is a self-portrait in which my face and arms are connected to a female torso. I appear again in a portrait miniature hanging from ribbons beneath the ring. A second motto written at the base of the star on a blue scroll reads "From the future with love". My wife Kianga stands on the stepladder. The image of burning buildings at her feet is taken from a photograph of the fall of Baghdad in 2003.

'This painting developed intuitively over 18 months. I have drawn inspiration from socialist propaganda posters, Renaissance art, Romantic landscape painting, medieval European heraldry and religious iconography. The unusual combination of breasts and beard has an interesting precedent in Jusepe de Ribera's The bearded woman, a portrait of a husband and wife from 1631.'

Born in Melbourne in 1974, Daverington began his artistic life as a graffiti artist then after 12 years of travel completed a Master of Fine Arts at the Victorian College of the Arts. Last year, he was a finalist in both the Sulman and Archibald Prizes.