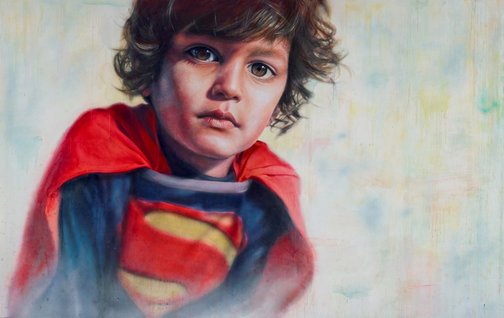 Vincent Fantauzzo
Winner: People's Choice 2014
All that's good in me (self-portrait as son Luca)
Medium

oil on linen

Read label text

Vincent Fantauzzo describes this painting as a self-portrait with his four-year-old son Luca as his subject and inspiration. 'Things have changed so much for me since Luca came into my life,' says Fantauzzo. 'He is my priority in every way. He has made me much more positive, and inspired me to notice and appreciate the little things in life. He depends on me and makes me who I am.

'Luca loves to dress up. That's why I decided to paint him as Superman. If it was up to him, he would wear the outfit to bed every night. Now and again he does. I loved painting this portrait. We worked on it together and it is now a memory we can share forever. Children are so confident as artists and with their opinions. I hope he never loses that. I find the look in Luca's eye to be so innocent yet there is a strength and a vulnerability there too.'

Born in the UK in 1977, Fantauzzo moved to Australia with his family as a child. A renowned portrait artist, this is his sixth time in the Archibald Prize. Last year he won the People's Choice Award for the third time for his portrait of actor Asher Keddie, whom he recently married. His portrait of Heath Ledger was highly commended in 2008 and in 2011 he won the Packing Room Prize with a painting of chef Matt Moran.